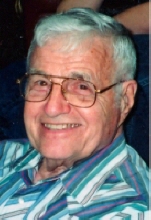 Obituary for Robert Nathan Samsel
Winnebago - Robert Nathan Samsel, 85, of Winnebago, passed away Saturday, May 19, 2012, in his home. He was born October 3, 1926, in Byron, to the most wonderful parents, Ralph and Vera (Roach) Samsel. Graduated from Oregon High School in 1944. Robert married Evelyn J. Schelling on September 5, 1946, in Mount Morris. She passed away on November 30, 1993. He then married Beverly (Buffington) Upchurch on January 14, 1995. Upon graduating from high school, Robert bought a can milk route, picking up milk from area farmers and delivering it to Carnation Milk, Oregon. After two years, he sold the milk route and started farming. Robert and Evelyn farmed for 15 years. He also managed International Harvester dealership in German Valley for seven years, and managed Meridian True Value, retiring after 20 years. Robert served 37 years with the Win-Bur-Sew Fire Department and 12 years on the Winnebago School District Board of Education, being president five years. He also served four years as village trustee, and chairman of Kishwaukee Division of School Boards for three years. Robert was an active member of First Presbyterian Church, Winnebago, having served as trustee, member of session and an usher. He loved wood-working and attending many craft shows to sell his projects.

Robert leaves behind his wife, Beverly; daughters, Sharon (Dennis) Christian and Sandra (Dale) Drexler; son, Michael (Diane) Samsel; stepchildren, Paula (Ron) Price and Duane Upchurch; grandchildren, Cindy (David) Thompson, Steven (Arlene) Christian, Michael Smith, Cody (Desa) Smith and Jodi (Matthew) Whitlock; stepgrandchildren, Trevor (Melissa) Price, Taylar (Alberto) Rosales, Dillon Upchurch, Diane (Jeff) Marsh and Douglas (Terra) Drexler; great-grandchildren, Sean, Kyle and Kristen Smith, Drew and Tylar Smith, Jacob Ferrell, Matthew Holton, Malachai Whitlock, Dawson Drexler, Dillon and Courtney Thompson, Matthew Walker, Stacy Christian, Jenna Marsh and Teagan Price; great-great-grandson, Izic Christian; sisters, Norma DeGraff and Janet Conner; and several nieces and nephews. Predeceased also by his parents; and sister, Jeanne Baylor.

Funeral Information

Memorial service at 12:00 p.m. Saturday, May 26, 2012, in Genandt Funeral Home, 602 N. Elida St., Winnebago with visitation from 9:30 a.m. until service time: the Rev. Steve Shullanberger, pastor of First Presbyterian Church, will officiate. Private burial has taken place.
Read More