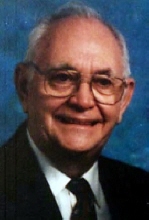 Obituary for Robert O. Ulvog
Winnebago - Robert O. Ulvog, 83, of Winnebago, died Monday, October 25, 2010, in Rockford Memorial Hospital, surrounded by his family, after a lengthy illness. Born October 3, 1927, in Meckling, S. D., the son of Alfred and Christina (Hanson) Ulvog. Bob married Phyllis J. Stanley on August 25, 1946, in Rockford. He served in the National Guard as sergeant first class from May 13, 1948 until May 12, 1951. Bob was a machine operator at Mechanics, Greenlee, Textron and Rockford Machine Tool, and then was self-employed at Forest Valley Service Co., retiring in 1992. He also was a school bus driver for the Winnebago School district for several years. Bob was an active member of Winnebago United Methodist Church, Gideon's, Winnebago Masonic Lodge 745 AF AM, Eastern Star, and Shriner's. He enjoyed fishing and golfing, and dearly loved spending time with his family.

Bob is lovingly survived by his wife, Phyllis Ulvog of Winnebago; children, Gordon (Linda) Ulvog of Fountain, Colo., Darla Ulrey of Sheboygan, Wis., and Dennis (Cheryl) Ulvog of Springfield, Nebr.; grandchildren, Patricia (Pat) Peregrina, Kevin and Robert (Lawra) Ulvog, John (Melinda) Blunt, and Penny (Larry) Forton; eleven great-grandchildren; brothers, Adrian (Peggy) and Alfred (Joanne) Ulvog and Marion (Leona) Kryger; and several nieces and nephews. He was predeceased by his parents; son-in-law, Lowell Ulrey; brother, Howard (Maxine) Ulvog; and sister, Catherine (Bill) Anderson.

Funeral Information

Service is at 11:00 a.m., Friday, October 29, 2010, in Genandt Funeral Home, 602 N. Elida St., Winnebago, with the Rev. Rick Neblock, pastor of Winnebago United Methodist Church, officiating. Burial in Winnebago Cemetery. Visitation 5:00 p.m. to 7:00 p.m., Thursday, October 28, 2010, with Masonic Rites at 7:00 p.m., in the funeral home.