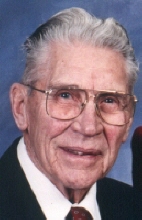 Obituary for Robert R. Wessels
German Valley - Robert "Bob" R. Wessels, 89, life-long resident of German Valley, died Tuesday evening, July 11, 2006, in Provena St. Joseph Center, in Freeport. Born July 1, 1917, in rural German Valley, the son of Mako and Margreta (Collman) Wessels. He graduated from Pleasant Prairie Academy, German Valley, in 1935. Robert married Marjorie Fricke on April 16, 1949, in St. John's parsonage, in Freeport. Together they farmed the Wessels farm in German Valley. Robert was an active member of Silver Creek Reformed Church, serving as elder, deacon, Sunday school teacher, catechism teacher, and he sang in the church choir. He was a school board member first with Wessels School and then German Valley Grade School, Forrestville Valley School, and Highland Community College trustee. Robert was active with the Stephenson County Farm Bureau and served as president. He was a Stephenson County Republican chairperson, charter member of the Stephenson County Historical Society Farm Museum, board member of the Stephenson County Merit Commission, and chairman of the 50th anniversary of Stephenson County Soil Water Conservation District. Very musically inclined, in his younger years, Robert played guitar in a band, and later sang in the Freeport Barbershop Chapter SPEBSQSA.

Robert is lovingly survived by his wife, Marjorie Wessels, of German Valley, daughter, Marcella "Marcy" Wessels of Freeport, son, Miles Wessels of German Valley, sister, Marjorie Klentz of German Valley and nephew, Michael (Judy) Klentz of German Valley.

Funeral Information

Service is at 11:00 a.m., Saturday, July 15, 2006, in Silver Creek Reformed Church, 326 S. Bunker Hill Road, German Valley, with the Rev. Randall P. Knoll officiating. Burial in Silver Creek Cemetery, in German Valley. Visitation 4:00 p.m. to 7:00 p.m., Friday, July 14, 2006 in Genandt Funeral Home, 145 Church St., German Valley.
Read More