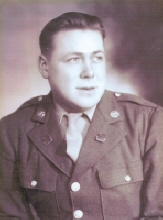 Obituary for Robert R. Winche
German Valley - Robert R. Winche, 88, of German Valley, went to be with the Lord on Wednesday, May 6, 2015, from his home, surrounded by his loving family and Pastor Easley, following a short illness. Born November 26, 1926, in rural Egan, the son of Herman and Bessie (Burkhart) Winche. He served in the U.S. Army from November 13, 1945 through January 6, 1946, during WWII, having served in Hammelburg, Germany. To the union of Charlotte Paul, two children were born. Robert married Mary M. Graves on August 27, 1978 in Mt. Morris. She passed away November 9, 1989. He then married Helen M. Hodge; she passed away on August 27, 2011. Robert was a lifelong dairy farmer in the German Valley/Egan area and worked at All Rental Garment, Rockford, for over 35 years. He was a lifelong active member of North Grove Christian Church, having served as deacon, usher and on the cemetery board. Robert also was a member of the Ogle County Farm Bureau. His passion was serving the church and working, whether it was gardening, yard work, or working with the cattle. He dearly loved being with his family, including the family dinners or just sitting in the sunroom together.

Robert is lovingly survived by his daughter, Sharon (Bill) Kaple of Poplar Grove; granddaughter, Brenda (Wesley) Ganz of Poplar Grove; step-grandchildren, Billy Kaple and Elaine (Jeff) McKamey, both of Moline; great-grandchildren, Madeline, Alyssa, Brynn, Lexi, Logan, Patrick and Derek; step-great-grandchildren, Willa and Henry McKamey; and step-sister, Lois (Jerry) Ihne-Cook of Rockford. He also was predeceased by his parents; son, Eugene R. Winche on April 3, 1995; sister, Marion Williams; infant brother, Edwin Winche; and dear aunt, Minnie Klinger.

Robert's family would like to thank earthly angels, Larysa Kravchenko, Lydia Devenish and Anthony Wyels, along with Northern Illinois Hospice for their loving care and support.

Funeral Information

Service at 11:00 a.m. Monday, May 11, 2015, in North Grove Christian Church, 11702 N. Mt. Morris Road, Leaf River, with the Rev. Carlton Easley, retired pastor, officiating. Burial in North Grove Christian Cemetery, Leaf River. Visitation 3:00 p.m. to 6:00 p.m., Sunday, May 10, 2015, in Genandt Funeral Home, 602 N. Elida St., Winnebago.