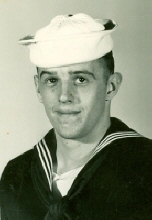 Obituary for Roger B. Christen
Rockford - Roger B. Christen, 78, of Rockford, died Friday, December 27, 2013, in his home, surrounded by his loving family. Born June 27, 1935, in Winnebago, the son of William and Winnie (Bowden) Christen. Graduated from Winnebago High School in 1953. Served in the U.S. Navy from 1954 to 1960, as Engineman 3rd Class. Roger married Barbara Johnson on January 20, 1962, in Winnebago United Methodist Church. He was a set-up man at Kysor's, in Byron and an active member of Viet Now. Roger enjoyed woodworking, being outside, and being a true handy-man.

Roger is lovingly survived by his wife of 52 years, Barbara; children, Richard Christen, Brenda (Tyrone) Buchanan, Ralph (Diane) Christen, Bonnie (Steve Graves) Christen, BeLinda (Mark) Brown, and Beverley Lempp; 13 grandchildren; 14 great-grandchildren; sister, Doris (Gus) Hermeling; and several nieces and nephews. He was predeceased by his parents; brother, Burton Christen; and sister, Jean Stauber.

Funeral Information

Service is at 3:00 p.m., Tuesday, December 31, 2013, in Genandt Funeral Home, 602 N. Elida St., Winnebago, with visitation from 1:00 p.m. until service time; the Rev. Clarence Christiansen, pastor of United Church of God, Rockford, will officiate. Cremation rites will be accorded after the service.