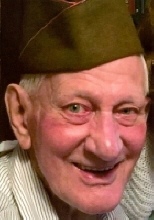 Obituary for Roger Kloster
Seward - Roger Kloster, 86, of Seward, died Tuesday, April 12, 2016, in the home of his birth, surrounded by his loving family. Born November 6, 1929, in Seward, the son of Ben and Anna (Schuur) Kloster. He attended a one-room schoolhouse in rural Pecatonica. Roger served in the U.S. Army from April 26, 1954 to April 25, 1956. He married Charlotte Phillips on July 3, 1954, in St. John Lutheran Church, Pecatonica. After farming for 12 years, he was a mechanic at Rock Ford Tractor, Pecatonica, n/k/a Peabody's North for many years. Roger was a member of St. John Lutheran Church. He enjoyed participating in the local rural fox hunts, hunting pheasants, attending tractor pulls (with a love for Oliver tractors), dancing with his wife, and playing euchre with family. Roger dearly loved the family 4th of July parties, enhanced with the annual celebration of their wedding anniversary.

Roger is lovingly survived by his wife, Charlotte; children, Norman (Shawn) Kloster, Diane Kloster Scott, Steven Kloster, Arnold Kloster, and Carol (Jeff) Kloster Scott; grandchildren, Kaitlyn, Jordan, Sara, Heather, Brianna, Shayn, and Michael; great-grandson, Kaden; and nephews, Alan and Brian Kloster. He was predeceased by his parents; sister, Delores Kloster; brother, Duane (Pat) Kloster; and niece, Lori Kloster.

Funeral Information

Service at 11:00 a.m. Saturday, April 16, 2016, in Genandt Funeral Home, 602 N. Elida St., Winnebago, with the Rev. Jake Ritzema, of Grace Valley Christian Reformed Church, German Valley, officiating. Burial in Twelve Mile Grove Cemetery, Pecatonica. Visitation 4:00 p.m. to 7:00 p.m., Friday, April 15, 2016, in the funeral home.
Read More