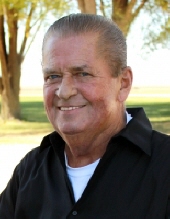 Obituary for Roger L. Klinefelter
Loving Husband, Father and Grandpa

Shannon - Roger L. Klinefelter, 69, of Shannon, formerly of German Valley, died Friday, December 4, 2015, in his home, after a brief battle with cancer, surrounded by his loving family. Born July 21, 1946, in Spring Valley, the son of Russell and Laura (Ashcraft) Klinefelter Sr. He attended school in Belvidere. Roger married Diane J. Mennenga on January 25, 1974, in Silver Creek Reformed Church, German Valley. He worked for Harder Helsley Supply Co., Rockford for 30 years, retiring in 2011; always enjoying visiting the customers he serviced. Roger enjoyed mowing lawns and riding his John Deere lawn tractor, with his red and blue lights, around Shannon visiting neighbors and friends. He dearly loved spending time with his grandchildren and attending all of their events.

Roger is lovingly survived by his wife, Diane; sons, James (Amanda) and Tim "Tiny" Klinefelter; grandchildren, Eric Schaney and Olivia Klinefelter, all of Shannon; brothers, Charles (Florence), Dennis, Harold (Roxane), Gary (Debbie), LeRoy (Helen) and Walter (Debbie); sister, Judy Bachman; and numerous nieces and nephews. He was predeceased by his parents; brothers, Robert, David and Russell Jr.; nephews, Bobby and Johnny Klinefelter; and niece, Beth Miller.

Funeral Information

Service at 10:00 a.m. Thursday, December 10, 2015, in Bethel United Methodist Church, 217 S. Hickory St., Shannon, with Pastor Mike Jones and Pastor Ellis Boughton co-officiating. Burial in Silver Creek Cemetery, German Valley. Visitation 4:00 p.m. to 7:00 p.m., Wednesday, December 9, 2015, in the church.
Read More