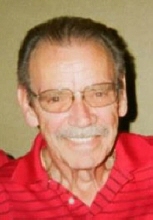 Obituary for Roger V. Sallee
Roger V. Sallee, 64, of Rockford, passed away suddenly on Saturday, December 1, 2012, while in Macomb. He was born September 1, 1948, in San Antonio, Texas, to Robert and Evelyn (Owen) Sallee. He graduated from Macomb High School in 1966 and then served his country proudly in the United States Air Force. Roger married Deborah J. Downey on June 4, 1972. They had just celebrated their 40 year anniversary in June. She passed away on June 8, 2012. He was also preceded in death by his parents and one sister, Cara Lee Deppe.

Survivors include his children, Nicole (Paul) Lindsay of Loves Park, Dustin Sallee of Rockford, and Cassidy (Greg) Leonard of Winnebago; grandson, Cayden Leonard of Winnebago; his brothers, Gary Sallee of Hua Hin, Thailand, and Robert Sallee of Macomb; as well as numerous nieces, nephews, in-laws, and friends.

Roger lived in the Good Hope area where he worked for Connor Company until 1990, when he transferred to Rockford. He continued working in the plumbing and heating business for most of his life.

The most important part of Roger's life was his family. He also enjoyed nature and never missed an opportunity to go hunting and sometimes, fishing. If he wasn't in the woods, you could most likely find him on the golf course. His happiest days were either those spent with family or those spent outside.

Funeral Information

Visitation will be held Wednesday, December 5, 2012 from 6:30 to 8 p.m. at Clugston-Tibbitts Funeral Home in Macomb. Service will follow on Thursday, December 6, 2012 at 10:30 a.m., at the funeral home with burial to follow in Forest Lawn Memory Gardens.

A visitation will be held at Genandt Funeral Home, 602 N. Elida St., Winnebago, on Sunday, December 9, 2012 from 2:00 to 4:00 p.m.
Read More