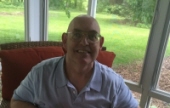 Obituary for Ronald C. Farb
Eau Claire, WI - Ronald C. Farb, 59, formerly of Seward, and former pastor of Seward Congregational Church, died Tuesday, February 23, 2016, in his sister's home, surrounded by his loving family, after a battle with pancreatic cancer. Born May 30, 1956, in Rockford, IL the son of Paul Farb and Jeanine (Solberg) Farb. Graduated from North Boone High School in 1974. After high school Ron received a diploma in mechanical drafting from Dunwoody Industrial Institute in 1976 and was employed with the Beloit Corporation. In 1979 Ron enrolled at Fort Wayne Bible College receiving a B.A. in Biblical Studies in 1981. From there he went to Trinity Evangelical Divinity School receiving his M.A. in New Testament in 1983. After seminary Ron did numerous jobs including customer support for FarbCad Systems (1984-1991); part-time pastor for Blaine and Hunter United Methodist Churches (1987-1989); District Executive for the Boy Scouts of America (1989-1991) and a data entry operator at Kable News (1992-1999). In October of 2003, Ron was called to be the pastor of Seward Congregational Church where he remained until May of 2013.

"I will always bless Seward Church for the opportunity to minister as a full-time pastor. Having a minister with a physical handicap presented its own challenges to the congregation which the people of Seward Church accepted with much graciousness and understanding. For those I may have wrongly judged or grieved during my time there, I ask forgiveness. For those who grew spiritually under my ministry, I give thanks to God. For the many who became close friends, I count as a blessing. For the love and support of my family, I continually praise God. I was neither the perfect pastor nor Christian. My one and only hope of heaven are found in the words of the Apostle Paul: 'Here is a trustworthy saying that deserves full acceptance: Jesus Christ came into the world to save sinners-of whom I am the worst" (1 Tim 1:15).

Ron is lovingly survived by his mother, Jeanine Farb of Eau Claire, WI; sister, Paula (Chuck) Wainscott of Chippewa Falls, WI; brothers, Dave (Lana) Farb of Liberty Lake, WA, Bill (Kim) Farb of Geneseo, IL, and Larry (Laurie) Farb of Rockford, IL; several nieces and nephews, grand-nephew, Errol; and grand-niece, Helen. He was predeceased by his father, Paul Farb, on November 12, 2001.

Funeral Information

Service at 2:00 p.m., Saturday, March 5, 2016, in Seward Congregational Church, Seward, with visitation from 1:00 p.m. until service time; the Rev David Bordy will officiate. Cremation rites were accorded. Burial of cremated remains in Clinton Cemetery, Clinton WI.