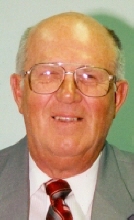 Obituary for Ronald E. Millard
Byron - Ronald E. Millard, 81, a long-time Byron resident, businessman, volunteer and community leader died on Saturday, December 28, 2013, peacefully at home from complications of chronic heart and lung disease. Born January 17, 1932, in Cass Lake, Minnesota, the son of Edward and Rena (Levridge) Millard.

He received his education in Belvidere where his family moved around 1940 when his dad became a field superintendent for Green Giant. Ron met and married Dolores J. DeSonia in 1950. He served as a Seaman in the Naval Reserve from 1950-1958 when he was honorably discharged. During this time he also began his career in the grocery business with Piggly Wiggly as a meat manager, progressing to store manager where his career took him to Byron to build and open the Super Value on Blackhawk Drive.

In the early 60s, he assisted in starting the first City of Byron Volunteer Ambulance. That led to him joining the Byron Fire Protection District as a volunteer fire fighter where he gave of his time and talent for over 20 years. He closed out his volunteer work serving for six years as a Trustee. In addition, around 1970 Ron joined the early organized Ogle County Deputy Sheriff's Association where he served as a deputy part time for about six years.

Leaving the grocery business in the mid to late 60's, he joined his father, Edward Millard, as a partner in E R Menswear of Byron. After his father's retirement, Ron expanded the operation to a second store in Conover Square in Oregon in 1978. As a Byron business owner, Ron became even more engaged in Rotary and the Byron Chamber of Commerce, serving as its president. He was on its business development committee that successfully established Kysor of Byron in its current location. In the early 80's he started the Northern Illinois Menswear Association.

During the mid-70's, he served as an alderman in his ward in Byron, then in the late 70's- early 80's he was elected Mayor of Byron and served a four year term. During this time, Ron spearheaded the town's first strategic plan, and ultimately laid the foundation that brought Commonwealth Edison and its state of the art Nuclear Power facility to the region. He served on the Northern Illinois Mayors Association during his tenure as well. In 1984, the Byron Chamber of Commerce named him person of the year in tribute to his contributions. He also served as Byron Park District board member during 1982-1987.

A lifelong freemason, Ron served as Master of the Blue Lodge in Byron and was an active member of the past master club from 1972-1991. He completed the consistory in Freeport and following that, was accepted into the Tebala Temple Shrine where he served in the clown unit as "Rags the Clown" for over 20 years, delighting young and old alike in parades, special events, and during the annual Circus events as a crowd entertainer to raise money for the Shriners Hospitals for Children.

Recently, Ron was appointed to the Byron Museum District as a board member. He and his wife are active members of the Byron Seniors. He joined St. Mary's Church in Byron in 1970 and has been active in the St. Vincent de Paul Society, served as an usher and Eucharistic minister.

Ron leaves his wife of 63 years, Dolores; daughter, Candace (Michael) Quinn of Loves Park; son, Christopher (Lou Ann) of Byron; five grandchildren, Dr. Brant (Melinda) Hulsebus, DC, of Rockford, Cory (Aaron) Park of Loves Park, Gabriel (Katy) Millard of Geneva, Noah (Emily) Millard of Rochelle, and Emily (Joshua) Gerdes of Byron; and 13 great-grandchildren. He is also survived by his seven close nieces and nephews, Kathy (Garrett) Pride of Denver, Colo., Greg (Devonne) Getzelman of Byron, Ed (Barb) Getzelman of Atlanta, Ga., Cindy (John) Walters, Percy, Ark., Charlene (David) Hollingsworth, of Fort Worth, Texas, Sam (Marianne) Guell Little Rock, Ark., and James (Christie) Getzelman of Byron; and several great-nieces and great-nephews. He was predeceased by his parents; sister, Beatrice Millard; and infant son, Ronald Edward Millard, Jr.

Funeral Information

Mass of Christian Burial will be offered at 10:00 a.m., Thursday, January 2, 2014, in St. Mary Catholic Church of Byron, 220 E. Second St., Byron, with visitation from 9:00 a.m. until service time; the Rev. Howard Barch will officiate. Private burial in St. Mary Cemetery, Byron. Visitation also from 4:00 p.m. to 7:00 p.m., Wednesday, January 1, 2014, in Genandt Funeral Home, 602 N. Elida St., Winnebago, with Masonic Rites at 3:30 p.m. and Rosary service lead by members of St. Mary's Parish at 7:00 p.m.
Read More