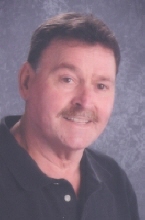 Obituary for Ronald J. Ingram
Loved By All

Byron - Ronald J. "Ron" Ingram, 62, of Byron, died early Sunday morning, December 26, 2010, in Rosewood Care Center of Rockford, surrounded by his family, after a sudden bout of cancer. Born July 30, 1948, in Rockford, the son of James and Beaulah (Purl) Ingram. Graduated from East High School, Rockford, in 1966 and served in the U.S. Marines from 1968 to 1972 during the Vietnam War. He was a millwright at Gunite for 30 years, retiring in 2001 and was a member of the United Auto Workers Local No. 718. Ron was a school bus driver for the Stillman Valley School District for seven years and enjoyed golfing and playing cards. He dearly loved being with his family and friends and will be greatly missed.

Ron is lovingly survived by his wife, Lisa Ingram; children, Scott (Claire) Ingram, Tonya (Jon) Hagelie, Christina (Alan) Taylor and Alexandrea "Ali" Ingram; grandchildren, Maxwell and Shaun Ingram and Molly and Michael Hagelie; father, James (Lucille) Ingram; sisters, Loretta (Phil) Yielding, Cindy (Scott) McMullen, Nina (Sandy) Sanders, and Linda (Bob) Poshka; and several nieces and nephews. He was predeceased by his mother, Beaulah and brother, Roy Ingram.

Funeral Information

Service is at 11:00 a.m., Wednesday, December 29, 2010, in Genandt Funeral Home, 602 N. Elida St., Winnebago, with the Rev. Truman D. Turner, pastor of Riverside Assembly of God, officiating. Burial in Byron Cemetery. Visitation 5:00 p.m. to 8:00 p.m., Tuesday, December 28, 2010 in the funeral home.