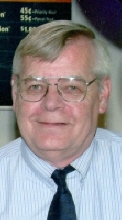 Obituary for Ronald James Rehberg
Winnebago Ronald James Rehberg, 71, of Winnebago, died Sunday, December 25, 2016, in his home. Born January 14, 1945 in Rockford the son of Lloyd A. and Marion G. Obrien Rehberg. Graduated from Auburn High School and attended Rock Valley College. Ron married Alice Marie Anderson on July 16, 1994 in Winnebago. A veteran of the US Army serving from October 13, 1965 to September 21, 1967 during the Viet Nam War. Ron worked as a mail clerk at the East State Street Post Office in Rockford.

Ron is lovingly survived by his wife, Alice Rehberg of Winnebago; son, Matt (Laura) Rehberg of Rockford; daughters, Kim (Jim) Lake of Roscoe, Christine Rehberg of Rockford; grandchildren, Haden Rehberg, Alexandra Lake, Kyle Lake; brothers, Phillip (Leslie) Rehberg of Rockford, Russell (Jeanine) Rehberg of Rockford, David (Alice) Rehberg of Rockford; sister, Carol Keister of Rockford; several nephews and nieces.

Ron is predeceased by his parents; sister, Hollis Cooper.

Funeral Information

Memorial Visitation 1:00 p.m. - 4:00 p.m. Sunday, January 8, 2017, in The Event Center, 506 N. Elida St., Winnebago. Cremation rites have been accorded. Arrangements by Genandt Funeral Home, 602 N. Elida St., Winnebago.
Read More