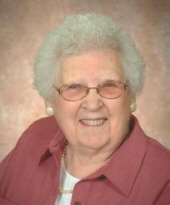 Obituary for Rosina M. Wunschel
Seward - Rosina M. "Rosy" Wunschel, 91, of Seward, died Monday, June 4, 2012, in Willows Health Center, Rockford, after a brief illness. Born April 4, 1921, in Shell Rock, Iowa, the daughter of Harm and Ella (Hutting) Viel. She graduated from Seward High School in 1938. Rosy married LaVerne B. Wunschel on February 15, 1941 in German Valley Christian Reformed Church. Rosy worked very hard alongside her husband farming in the Seward area for many years. After leaving the farm, Rosy then worked in the cafeteria at Auburn High School, Rockford. She then volunteered for 20 plus years at McNair Middle School's cafeteria, Winnebago. Rosy loved residing at Prairie View where she had a "window on the world" watching all the activities at McNair School. Rosy thoroughly enjoyed every day at Prairie View, and always was thrilled to receive visitors. Rosy was a fabulous cook and made an awesome pot roast, potatoes and carrots. She always had a big garden and canned tomato juice and vegetables most of her life.

Rosy is lovingly survived by her daughter, Sandi (Ben) Milburn of Winnebago; grandchildren, Jodi (Barry Backes) Hermans of Rockford, Micki (Terry) Smith of Pecatonica and Mike Melito of Loves Park. Rosy was predeceased by her parents; husband, LaVerne Bert on May 11, 1985; daughter, Joyce Melito on June 24, 2011; her only sister, Josephine "Sis" Burkhart on June 15, 2011; brother-in-law, Harold Burkhart on September 3, 2010; and parents-in-law, Bert and Blanche Wunschel.

The family would first and foremost like to thank the staff and other residents at Prairie View Assisted Living for their loving care the past three years. They would also like to thank the staff at Wesley Willows Health and Rehab Center and Visiting Nurses Association for their exemplary care.

Funeral Information

Funeral Service is at 10:00 a.m. Saturday, June 9, 2012, in Seward Congregational Church, with the Rev. Ronald Farb officiating. Burial in Twelve Mile Grove Cemetery, Pecatonica. Visitation 6:30 p.m. to 9:00 p.m. Friday, June 8, 2012, in Genandt Funeral Home, 602 N. Elida St., Winnebago.