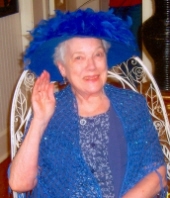 Obituary for Ruby A. Dunnavan Sanders
Rockford - Ruby A. Dunnavan Sanders, 84, died Tuesday, December 3, 2013, in River Bluff Nursing Home, after a lengthy illness. Born July 27, 1929, in Pecatonica, the daughter of Harm and Grace (Jensen) Lameyer. Ruby married Robert B. Dunnavan on April 5, 1945 in Pecatonica. Bob died on March 11, 1976. Ruby then married Charles E. Sanders on November 7, 1986 in Rockford. She was a returns coordinator at Blain's Farm Fleet and then at Bob's Hardware for many years. Ruby was a member of the Ellida Club. She dearly loved making homemade Christmas gifts, ornaments and cookies for her grandchildren.

Ruby is lovingly survived by her husband, Chuck, children, Melody (Ed) Campbell, Rodney (Robin VonEssen) Dunnavan, Robin (Sandy) Dunnavan, and Mitzi Jones; stepdaughters, Joyce Culbreath, Cheryl Gray, Cindy Larkins, and Carol Boslem; 16 grandchildren; 31 great-grandchildren; brothers, Donald "Pete" (Berniece) and Harlan "Chub" (Betty) Lameyer; and several nieces and nephews. She also was predeceased by her son, Randy Dunnavan on December 10, 1998; brother, Clarence "John" Lameyer; and sister, Lois Williams.

Funeral Information

Service is at 11:00 a.m., Saturday, December 7, 2013, in Genandt Funeral Home, 602 N. Elida St., Winnebago, with the Rev. Ken Schmoyer, pastor of Hospice Care of America, officiating. Burial in Twelve Mile Grove Cemetery, Pecatonica. Visitation from 5:00 p.m. to 7:00 p.m., Friday, December 6, 2013, in the funeral home.
Read More