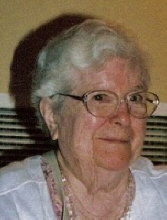 Obituary for Ruth Irene Temple
Winnebago - Ruth Irene Temple, 88, of Spokane, Wash., previously of Winnebago, passed away peacefully in her sleep Tuesday morning, February 26, 2008, in Sunshine Gardens, Spokane. Born June 1, 1919 in Owen Township, Rockford the daughter of Andrew and Inez Irene (Boughner) Ekanger. She attended Owen Center School 8 years, Roosevelt Junior High for 1 year and graduated from Rockford Central High School in 1937. She attended Rockford Business College and Metropolitan Business College. Ruth married Charles Temple in the Owen Center Methodist Church on August 22, 1953. She was a commercial mortgage and finance secretary before her marriage and then worked on the family farm. Ruth was an active member of the Middle Creek Presbyterian Church of Winnebago, singing in the choir, taught Sunday school and was president of the Woman's Association. A devoted Grange member for over 70 years with the National, Illinois State, Pomona, Center, Westfield, Byron and Perryville Granges and editor for the Illinois Granger newspaper. She was a violinist with the Rockford Civic Symphony and a member of the Winnebago High School AFS (American Field Service). In Spokane, Ruth was an affiliate member of the Opportunity Presbyterian Church and Moran Prairie Grange. Loving to travel, Ruth was able to say she visited all 50 statesand attended her high school's 70th reunion.

Ruth is lovingly survived by her son, Elbert A. Temple of Clinton Township, Mich.; daughter, Erma (John) Hultman of Spokane Valley, Wash.; granddaughters, Amy (Eric) Shaw of Boise, Idaho and Ruth Ann Hultman of Washington, D.C.; great-grandson, Andrew Shaw of Boise; brother-in-law, Clifford Holmes of Rockford, Ill.; several nephews, nieces, grandnephews, grandnieces and great-grandnieces.

Ruth was predeceased by parents; husband, Charles Temple, on June 6, 1991; and sister, Esther Holmes.

Funeral Information

A memorial service will be at 1:00 p.m. Friday, February 29, 2008, in Opportunity Presbyterian Church, 202 N. Pines Road, Spokane Valley, with the Rev. Matthew Paul officiating. A memorial service will also be at 11:00 a.m., Saturday, March 29, 2008, in Genandt Funeral Home 602 N. Elida St., Winnebago, IL with the Rev. Anita Stuart-Steva, pastor of Middle Creek Presbyterian Church, officiating. Burial in Willwood Burial Park of Rockford. Visitation 5:00 p.m. to 7:00 p.m. Friday, March 28, 2008, in the funeral home with a Grange Service at 7:00 p.m. by the Winnebago County Pomona Grange.