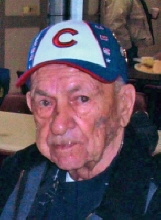 Obituary for Sam DeMarco
Lifelong Friend

Rockford - Sam DeMarco, 98, of Rockford, died Thursday, April 2, 2009, in his home, after a lengthy illness. Born April 16, 1910, in New York City, N.Y., the son of Alfeo and Francesca (Ruiti) DiMarco. In 1927, he graduated from high school in Italy. Coming back to America, Sam was employed at Barber Colman for 5 years, earning 25 cents an hour, until the depression. Upon recovery during the depression, he was with Midwest Operating Engineers as a crane operator for over 50 years, retiring in 1972, after helping build the twin cooling towers at the nuclear power plant in Byron. He received the certificate of award in recognition of 50 years of service to Local 150 International Union of Operating Engineers. Sam was an avid gardener and enjoyed hunting, not only deer, but also raccoons, besides occasionally fishing.

Sam is lovingly survived by several lifelong friends including George and Jessica Bonne and their children, Geoff, Justin and Jenna Bonne, all of Rockford. He was predeceased by two brothers. Special thanks is given to Karen Ramage for all her loving care and friendship these last three years.

Funeral Information

Mass of Christian Burial is at 1:00 p.m. Monday, April 6, 2009, in St. Mary Catholic Church of Byron, 220 E. Second St., Byron, with the Rev. Sylvester Nnaso officiating. Burial in Winnebago Cemetery in Winnebago. Visitation 4:00 p.m. to 6:00 p.m. Sunday, April 5, 2009, in Genandt Funeral Home, 602 N. Elida St., Winnebago.
Read More