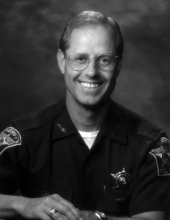 Obituary for Samuel "Sam" J. Volkert
Samuel "Sam" J. Volkert, 71, Dixon, IL, passed away at his home on Tuesday, February 14, 2023, after a long battle with kidney disease and cancer.
Sam was born on June 14th, 1951, in Freeport, IL - the second son of Margaret (Meyer) and Jack Volkert of Pecatonica, IL. On June 30, 1973, Sam married Katharine L. Woods at the Congregational Church in Pecatonica. They had one child together, Nicholas, born in 1980.
Sam grew up on Jefferson Street in Pecatonica. He was baptized and confirmed at St John's Lutheran Church in Pecatonica. He attended the Pecatonica school district and is a 1969 graduate of Pecatonica High School. After graduation, he attended Rock Valley College, Highland College, and finished his education at the University of Illinois. With his family as pillars in the community he grew up with his grandmother Ruby Volkert Reagan, who was a teacher at the Pecatonica Grade School, his Uncle Mernie Dirksen and cousin Bob Meyer, who worked at the Pecatonica Post Office. Ida Dirksen, his aunt, who worked at the Pecatonica Bank. His great uncle John Dean who worked at Dean's in Pecatonica. The list of family ties in the Pecatonica community goes on and on.
Sam started his law enforcement career in Pecatonica. He became a part-time deputy for the village. Sam then applied at the Stephenson County Sheriff's Department to become a correctional officer working at the jail. As a county deputy, he was promoted to detective and then sergeant. Sam ran for sheriff of Stephenson County and held the position for three terms (1986-1998). Prior to becoming sheriff, Sam became mayor of Rock City and was the president of the Senior Citizens board. While President of the board he pursued a grant to build, and then built, an 8-unit apartment building for senior citizens of the community to live in. Sam was also active in with the Dakota Lions Club and Freeport Sunrise Rotary.
Before his law enforcement career, Sam was a drummer in a variety of rock and roll bands before forming his most well-known band Evil Peeple. His band played for many venues and school dances in northern Illinois. Sam's love of music and playing drums was his passion in life. The love of his fellow band members inspired a tight knit group. Joe Clark (cousin) and Sam started a small group in high school; then it transformed into a big rock and roll band. Until his passing, he kept in contact with his band members: Ron Miller, Joe Clark, John Peterson, and Mark Kraut. He had the best band managers in Chuck Tarbert (deceased), Bill Stark, and Gary Osborn.
After Sam's retirement he would attend local car shows looking for his beloved 1969 Plymouth Roadrunner. He drove a Plymouth Roadrunner in his 20's; but had to part with it after he started a family, since it wasn't the best vehicle for Illinois Winters. It was his mission in retirement to find his old Roadrunner. Additionally, his love for drums never went away. He would purchase and refurbish old Ludwig drum kits to sell or give away. He taught drum lessons to many people throughout the years and passed his passion on to his son. Until the day he died, he played on his beloved Ludwig drums.
He is survived by his wife, son, and brothers Tedd and Gordon, his Uncle Gary Meyer and wife Lyn, his Aunt Ida Dirksen, and his many nieces, nephews and cousins. Sam's in-laws: Janet and Neil Cuthbertson, Dorin and Sherri Woods, Marcia Hutchison (Ed Reed), and William and Adell Woods. He is also survived by his lifelong friends Jack Ottoson and Lynn Moist, and his favorite couple George and Val Jewell.
Sam was predeceased by his parents, grandparents: (maternal) George and Jennie Meyer, (paternal) Kenneth and Ruby Volkert. His Uncle Mernie Dirksen, Uncle Marv and Aunt Doris Clark. His brothers: Rod, Scott, and Norman Volkert. And his beloved dog, a German shepherd and collie mix named Rex.
Sam will be missed by his family, friends and those who knew him.
The family would like to thank the staff and doctors at KSB hospital and CGH hospital. But most of all the nurses, techs, and doctors at the Dixon Davita.
A memorial service will be held at St. John Lutheran Church on 1301 N. Jackson St, Pecatonica on Saturday, March 4th, 2023 at 4:00 PM with Reverend Nord L. Swanstrom officiating.
The family asks that memorials be made to places that were dear to Sam: St. John Lutheran Church in Pecatonica and the Pecatonica High School Band.
His favorite quote: "Keep on drumming!"
Cremation rites accorded. The Genandt Funeral Home in Winnebago, IL is handling the arrangements. For an online obituary and tributes go to www.genandtfuneralhome.com.
Read More
Previous Events
Memorial Service
St. John Lutheran Church
1301 N. Jackson St.
Pecatonica, IL 61063
Memorial Contribution
St. John Lutheran Church in Pecatonica
Pecatonica High School Band