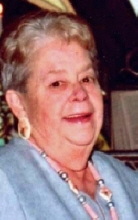 Obituary for Sandra Sue Slater
Beloved Wife, Mom, Grandma & Great-grandma

German Valley - Sandra Sue Slater, 65, of German Valley, gave up her fight and went to be with her Lord, Thursday, February 28, 2008. She began her life's journey on March 22, 1942, born to the family of Rollie and Mary (Connar) Miller. She grew up in Bellflower until she met and married the love of her life, Thomas Slater, Sr. on October 19, 1957. They began their life together in Rockford, and as their family grew, so did their homes, moving from Rockford to Loves Park, and then to German Valley. They remained in German Valley where she was able to watch her children grow up, then her grandchildren and then her great-grandchildren. Sandra loved sitting at her kitchen table with a house full of children and loving couples. She felt truly blessed.

She leaves to mourn her passing, her husband, Thomas Slater, Sr.; four sons, Thomas Jr. (Sue), John (Julie), Lonnie (Becky) and Tim (Sarah) Slater; two daughters, Linda (Roy) Becker and Kim (Jim Oakes) Roach, 20 grandchildren; 17 great-grandchildren; two brothers, Larry "Benny" (Lena) and Loran (Lyla) Miller; two sisters, Betty Perry and Cathy (Phil) Campbell; numerous nieces, nephews and friends.

Sandra was predeceased by her parents; son, Jeffrey Slater; sister, Bev Burke; and brother, Jim Miller.

Funeral Information

Service is at 10:00 a.m., Tuesday, March 4, 2008, in German Valley Christian Reformed Church
4861 S. Holland Church Rd., German Valley, with the Rev. Jake Ritzema officiating. Burial in Christian Reformed Cemetery, in German Valley. Visitation 4:00 p.m. to 8:00 p.m., Monday, March 3, 2008, in Genandt Funeral Home, 145 Church St., German Valley.
Read More