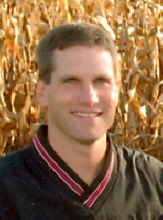 Obituary for Scott B. Franklin
A Much-loved Husband, Father, Son, Brother & Grandson

Winnebago - Scott B. Franklin, 45, of Winnebago, passed away peacefully in his home Saturday, September 8, 2012, after bravely confronting ALS. Born May 18, 1967, in Rockford, the son of Terry and Melanie (Ritter) Franklin. Graduated from Winnebago High School in 1985. Scott married Connie J. Michles on September 12, 1992, in St. Mary's Catholic Church, Pecatonica. Employed with the family business, Winnebago Motor Homes, Rockford, since 1985. Member of Grace Valley Christian Reformed Church and was an active volunteer for many of his children's activities. Scott was an avid NASCAR and Dallas Cowboys fan. He loved four-wheeling and vacationing in the Smoky Mountains with his family.

Scott is lovingly survived by his wife of 20 years, Connie, and children, Darcy and Derek, all of Winnebago; parents, Terry and Melanie Franklin of Rockford; grandmother, Dorothy Carlson of Rockford; brother Mick (Tricia) Franklin of Winnebago; mother-in-law, Betty Michles of Winnebago; sister-in-law, Karen (Dave) Bodel of Fort Mill, S.C.; and nieces and nephew, Allison, Krista and Jessica Franklin of Winnebago and Kate and Alex Bodel of Fort Mill. Predeceased by his grandfather, Robert Franklin; grandparents, Louis and Mary Ritter; stepgrandfather, Art Carlson; and father-in-law, Warren Michles.

Funeral Information

Service at 10:00 a.m., Thursday, September 13, 2012, in Grace Valley Christian Reformed Church, 8210 E. Edwardsville Rd., German Valley, with the Rev. Jake Ritzema officiating. Cremation rites have been accorded. Interment of cremated remains in Twelve Mile Grove Cemetery, Pecatonica. Visitation 5:00 p.m. to 8:00 p.m., Wednesday, September 12, 2012, in Genandt Funeral Home, 602 N. Elida St., Winnebago.