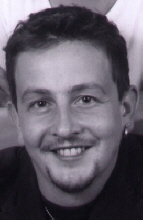 Obituary for Sean Stuart Boyd
Rockford - Sean Stuart Boyd, 32, of Rockford, died unexpectedly Thursday, May 17, 2007, in his home. Born August 14, 1974, in Livingston, Mont., the son of Ellis Boyd and Mary Catherine Stormont. Graduated from Shields Valley High School, Clyde Park, Mont., in 1992; attended college in Powell, Wyo., and graduated from Rock Valley College in 1996 as a registered nurse. He was a certified flight nurse and traveling nurse. Sean was an E.R. nurse at St. Joseph's Hospital in Tampa, Fla. for eight years and then in Rockford Memorial Hospital's E.R. for two years, while attending Rock Valley College fulltime. He was a member of First Church of the Brethren. Sean enjoyed traveling the world, loved theater, drama and art and was a prolific reader, writer and songwriter.

Sean is lovingly survived by his mother, Mary Stormont of Rockford; sister, Molly Boyd of Tulsa, Okla. and numerous aunts, uncles, cousins and friends.

Sean was predeceased by his grandparents, Robert and Helen Stormont, and his "dad for a year", Randy Willis.

Funeral Information

Service is at 11:00 a.m., Monday, May 21, 2007, in First Church of the Brethren, 6909 Auburn St., Rockford, with visitation from 10:00 a.m. until service time; the Rev. Kathleen Brinkmeier will officiate. Private burial in North Grove Evangelical Cemetery in Leaf River.
Read More