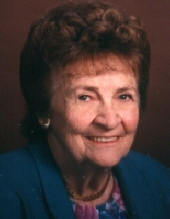 Obituary for Shirley C. Langholf
Special Friend To All

Seward - Shirley C. Langholf, 95, of Seward, entered her heavenly home Wednesday morning, March 14, 2007. Born January 2, 1912, in Seward, the daughter of Dwight and Hazel (Lowry) Conger. She attended Seward and Rockford High Schools, graduating in 1930 and from Illinois State University, in Normal; receiving her Teacher's Certificate in 1932. She taught school for eight years, before marrying Dale Langholf on December 21, 1940, in Rockton. Shirley was a lifelong member of Seward Congregational Church, and while living in Columbus, attended Reformed Presbyterian Church. At the age of 88, she self-published her autobiography, with the help of Cathy Behn. Shirley was known for her outgoing personality and her wonderful sense of humor.

Shirley is lovingly survived by her daughter, Lynette (Edmund) Schisler of Columbus, Ind.; son, Brian (Vickie) Langholf of Forreston; grandchildren, Kelly (Steve) Fuller and David (Jenelle) Schisler, both of Columbus, Jennifer (Jeff) Koning, Erik and Brandon Langholf, all of Pecatonica, Maurisa (Mark Stocking) Langholf of Rockford and Ashley Langholf of Winnebago; stepgrandchildren, Jodi (Jim) Boelens and Mike Witmer, both of Polo, 16 great-grandchildren, and special nieces Elise Fry and Arlene Fisher, both of Pecatonica .

Shirley was predeceased by her husband, Dale Langholf on December 19, 1989 and granddaughter-in-law, Stacy Langholf.

Funeral Information

Service is at 11:00 a.m., Wednesday, March 21, 2007, in Seward Congregational Church, with the Rev. Ronald C. Farb and Pastor Andy McCracken, of Reformed Presbyterian Church, in Columbus, co-officiating. Burial in Twelve Mile Grove Cemetery, in Pecatonica. Visitation 5:00 p.m. to 7:00 p.m., Tuesday, March 20, 2007, in Genandt Funeral Home, 602 N. Elida St., Winnebago.