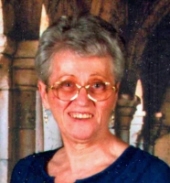 Obituary for Shirley J. Watson
Freeport - Shirley J. Watson, 67, of Freeport, died Friday morning, September 19, 2008, in SwedishAmerican Hospital, Rockford, after a short illness. Born November 2, 1940, in Freeport, the daughter of Glenn and Rosalie (Cali) Kerr. She loved getting together with family and friends; she loved angels, butterflies, picture puzzles and watching old movies. Shirley so loved the times spent with her two granddaughters, the lights of her life. She had a caring, compassionate and loving heart and spent the past couple years working for Comfort Keepers. Shirley was an active member of Crossroads Church, in Freeport. She was an inspiration to all who knew her.

Shirley is lovingly survived by her daughter, Diane (Brian) Swanstrom of Baileyville; son, David (Sandy McCarthy) Watson of Freeport; granddaughters, Brittany and Brianne Swanstrom of Baileyville; sister, Judy Berryman; nieces, Lori (David) Barkley and Jodi (Pat) Kane; great-nephews, Kenny and Kyle Barkley, all of Princeton; and many loving family and friends.

She was predeceased by her parents; grandparents; and many aunts and uncles.

Funeral Information

Service is at 10:30 a.m., Tuesday, September 23, 2008, in Chapel Hill Memorial Gardens, 2514 Illinois Route 26 South, Freeport, with the Rev. Jake Ritzema, pastor of German Valley Christian Reformed Church, officiating. Visitation 4:00 p.m. to 7:00 p.m., Monday, September 22, 2008, in Genandt Funeral Home, 145 Church St., German Valley.
Read More