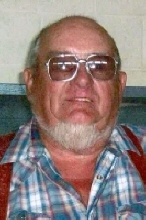 Obituary for Squire Raymond Butt
Loving Husband, Dad and Grandpa

Byron - Squire Raymond Butt, 76, of Byron, died Friday, April 3, 2015, from heart complications, in Rockford Memorial Hospital, surrounded by his loving family. Born December 16, 1938, in Rockford, the son of George A. and Evelyn (Miller) Butt. He attended Byron Schools, class of 1956. Squire married Cindy Cupp Svartoien, on January 22, 1971, in Rockford. He worked as a truck driver and mechanic all his life. Squire was a member of Teamsters No. 325 and retired from Sjostrom Sons in 2003. His hobbies included Haflinger horses, tractors (especially Farmall tractors), his '55 Buick, attending auctions, and following Dale Jr. in NASCAR.

Squire is lovingly survived by his wife of 44 years, Cindy; daughters, Debra (Dale) Anderson of Easley S.C., Kelly (Mark) Roberts of Stillman Valley, Becky (Sean) Svartoien Adams of Byron, Jill Jackson of Winnebago; son the Butt family never had, Nick Morrison; grandchildren, MeLisa (Chris) Wentz, Mark (Maddie) and Michael Raymond (Kate) Anderson, Curt (Megan Davis), Kendra and Kyle (Heather) Roberts, Kelsey and Kourtney Adams, Brett Jackson; and Lindsey (Ryan) Svatos; great-grandchildren, Brock and Bryce Wentz, Anniston Rudsinski, Carter Roberts and Preston Svatos; brothers, Max (Vicki) and George (Pam) Butt; brother-in-laws, Forrest Miller, Ric (Jan) and Andy (Sherry) Cupp; special cousin, Rick Whitney; numerous nieces, nephews and cousins; and his puppies. He was predeceased by his parents; two brothers and three sisters.

Funeral Information

Service is at 11:00 a.m., Wednesday, April 8, 2015, in Genandt Funeral Home, 602 N. Elida St., Winnebago, with Pastor Gary Cortese of Global Harvest Church, Byron, officiating. Burial in Middle Creek Cemetery, Winnebago. Visitation 3:00 p.m. to 7:00 p.m., Tuesday, April 7, 2015, in the funeral home.
Read More