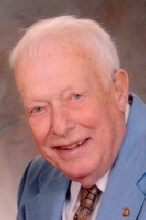 Obituary for Stanley L. Meyers
Winnebago - Stanley L. "Stan" Meyers, 89, of Winnebago, died Friday, December 18, 2015, in Rockford Memorial Hospital, following a short illness. Born August 13, 1926, in Rockford, the son of Arnold F. and Dorothy S. (Stanley) Meyers. Graduated from Winnebago High School in 1944 and then Spartan Aeronautics, Tulsa, OK, in 1948. Stan married Carol V. Gambrel on July 22, 1950, in First Presbyterian Church, Winnebago. He served in the U.S. Air Force from July 14, 1950 to July 27, 1956, during the Korean War. Stan was an aircraft mechanic at Pecatonica Airport and after serving in the Air Force, was a mechanic at the Greater Rockford Airport for 20 years. He became a bus mechanic for the Winnebago School District and then worked maintenance at Illinois Water Treatment, Rockford, for over ten years. Stan was an active member of First Presbyterian Church, Winnebago Masonic Lodge 745 AF AM, Freeport Consistory Scottish Rite, 33rd Degree, and Tebala Shrine Temple. In addition, he served over 9,500 hours as a volunteer at Rockford Memorial Hospital, since 1988. His interests included trains and Civil War history, and he dearly loved spending time with his family.

Stan is lovingly survived by his wife, Carol; sons, Scott (Lana) Meyers of Rockford and Steve (Judy) Meyers of Cherry Valley; grandchildren, Brittany (Tim) Freiberg and Tanner (Sonia) Meyers, great-grandson, Nash Freiberg; sister-in-law, Leola Meyers of Byron; and several nieces and nephews. He was predeceased by his parents and brother, Arnold Meyers Jr.

Funeral Information

Service at 11:00 a.m. Tuesday, December 22, 2015, in Genandt Funeral Home, 602 N. Elida St., Winnebago, with the Rev. Carroll Smith, pastor of First Presbyterian Church, officiating. Burial in Winnebago Cemetery. Visitation 4:00 p.m. to 7:00 p.m., Monday, December 21, 2015, with Masonic Rites at 7:00 p.m., in the funeral home.
Read More