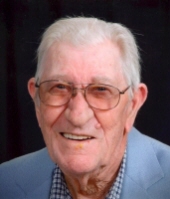 Obituary for Stanley W. Nelson
Loving Husband, Father And Grandfather

Winnebago - Stanley W. Nelson, 84, of Winnebago, died Tuesday, September 10, 2013, in his home, surrounded by his loving family, after a courageous battle with cancer. Born May 14, 1929, in Alexandria, Minn., the son of Joseph and Evelyn (Olsen) Nelson. Stan married Anna Krotz on April 28, 1956, in St. Peter's Cathedral, Rockford. He was initiated in Plumbers and Pipefitter's Local No. 23, Rockford, in 1967, retiring from plumbing in 1987. Stan also was a life-long farmer. He was an active member of St. Mary's Catholic Church and Polka of America Club. Stan grew an abundant garden, donating most of its produce to Rockford Rescue Mission and Rockford Food Pantry. He truly enjoyed fishing and dancing during his retirement years.

Stan is lovingly survived by his wife, Anna; children, Deb (Wayne) Asplund, Dennis Nelson, Donna Chambers, Daniel Nelson, David Nelson and Diane (Mike) Staab; grandchildren, Jessica, Heather, Wyatt, Sean, Seth, Hope, Amanda, Carri, Derek, and Crystal; four great-grandchildren; sister, Lois Casinger; brothers, Allen (Sharon) and Milo Nelson; and several nieces and nephews. He was predeceased by his parents and grandson, Blake Nelson, on October 28, 2010.

Stan's family thanks Julie and the rest of the staff of VNA Hospice for their care and support.

Funeral Information

Mass of Christian Burial is at 10:00 a.m., Saturday, September 14, 2013, in St. Mary's Catholic Church, 126 W. 5th St., Pecatonica, with the Reverend Monsignor Robert Sweeney officiating. Cremation rites have been accorded. Private burial of cremated remains in Calvary Catholic Cemetery, Winnebago.
Read More