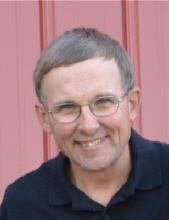 Obituary for Steven D. Jones
Winnebago - Steven D. Jones, 56, of Winnebago, went home to be with the Lord, Sunday, December 30, 2012, in his home, surrounded by his loving family. Born February 28, 1956, in Rockford, the son of Leland and Margaret (Bridgeland) Jones. Graduated from Winnebago High School in 1974. Steve married Diana Hale on December 18, 1976, in Park Hills Evangelical Free Church, Freeport. He loved the Lord and was a true servant. Steve was a very devoted and loving husband, father and Papa. After farming for several years, Steve then served his community as a well-loved and respected electrician for 23 years as Jones Electric Service. He was an active member of Maywood Evangelical Free Church.

Steve is lovingly survived by his wife, Diana; children, Brooke (Adam) Stubbs, Jeremy (Breanna) Jones, and Kelsi (Kyle) Peacock; grandchildren, Josiah, Nathaniel, Elizabeth, Paul and Zachary Stubbs, and Tripp and Crew Jones; parents; sisters, Nancy (Al) Gambrel, Karen (Bruce) Schandelmeier, and Kathy (David) VanReenen.

Funeral Information

Visitation and funeral service will be held in Maywood Evangelical Free Church, 3621 Samuelson Road, Rockford. Visitation hours are Friday, January 4th, 4:00 p.m. to 8:00 p.m. Funeral service is at 2:00 p.m., Saturday, January 5th. Private burial in Middle Creek Cemetery, Winnebago.
Read More