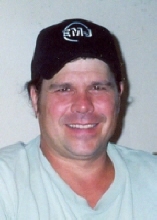 Obituary for Steven R. Swanson
Winnebago - Steven R. Swanson, 53, of Winnebago, died Monday, July 4, 2016, in Rockford Memorial Hospital, following a sudden illness. Born July 13, 1962, in Rockford, the son of Ronald L. and Barbara J. (Dubrock) Swanson. He graduated from Winnebago High School in 1980. Steve was a licensed plumber, currently with Design Plumbing Piping Inc., Byron. He was a member of UA Local 23 Plumbers and Pipe Fitters, Rockford, for many years. An avid outdoorsman, Steve enjoyed hiking and fishing, and loved spending time on his property in upper Michigan.

Steve is lovingly survived by his parents, Ron and Barb Swanson of Rockford; sisters, Rhonda Swanson and Karen (Jim) Johnson, both of Winnebago; niece, Jerika (Josh) Goike of Stillman Valley; nephew, Jeffrey Swanson of Winnebago; and dear family friend, Jermey Holcomb of Rockford. He was predeceased by his grandparents.

Funeral Information

Gathering of family and friends from 2 p.m. to 5 p.m., Sunday, July 10, 2016, in Genandt Funeral Home, 602 N. Elida St., Winnebago. Cremation rites have been accorded.