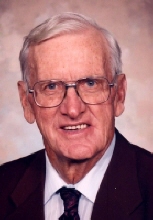 Obituary for Theodore J. Meissen
Winnebago - Theodore J. "Ted" Meissen, 90, of Winnebago, formerly of Durand, passed away Friday, May 27, 2011, in his home, after a short illness. Born April 15, 1921, in Freeport, the son of Frank and Mary Elizabeth (Heinen) Meissen. Graduated from Durand High School in 1939. Ted spent his life as a farmer on the family's home farm in Durand. He was a member of St. Mary Catholic Church, Durand, serving as a church commentator for many years. He was a fourth degree member of the Bishop Peter J. Muldoon Assembly 190 Knights of Columbus. Ted was a charter member of the formation of the third degree Durand-Pec Council 4941 Knights of Columbus, serving two terms as Grand Knight. He moved to Winnebago in 1989, and was active in St. Mary Catholic Church of Byron. Ted was active with the Winnebago County Soil Water Conservation Board. He mentored several young troublesome boys in the surrounding area for parents requesting assistance of farm education and discipline. Ted also sponsored a young lady from Vietnam for U.S. citizenship. He spent many years as a volunteer at Rockford Memorial Hospital and Rockford Rescue Mission. Active with the local Bluebird Society, Ted provided many educational programs.

Ted is lovingly survived by his third wife, Jean (Carlson-Smith) Meissen of Winnebago; sons, David E. (Marjorie) Meissen and Dennis H. (Jody) Meissen, both of Durand; daughters, Debra K. Kramar of Durand and Diana L. Diggs of Lawrenceville, Ga.; stepson, Mat (Debbie) Smith of Winnebago; twelve grandchildren; five stepgrandchildren; nine great-grandchildren; two great-stepgrandchildren; two great-great-stepgrandchildren; brother, Clement A. Meissen of Rockford; and several nieces and nephews. He was predeceased by his father in 1944; mother in 1978; first wife, Wavah Jean (Potter) Meissen in 1978; second wife, Reva Jean (Seldon-Lodin) Meissen in 1986; brothers, Raymond, Leo, Andrew, Francis, Vincent and Edwin Meissen; and one great-stepgrandchild.

Funeral Information

Mass of Christian Burial is at 10:00 a.m., Wednesday, June 1, 2011, in St. Mary Catholic Church, 602 W. Main St., Durand, with the Rev. Monsignor Eric Barr and the Rev. Sylvestor Nnaso, pastor of St. Mary Catholic Church of Byron, co-officiating. Burial in St. Mary Catholic Cemetery, Durand. Visitation 5:00 p.m. to 8:00 p.m., Tuesday, May 31, 2011, in Genandt Funeral Home, 602 N. Elida St., Winnebago, with Rosary Rites at 8:00 p.m.
Read More