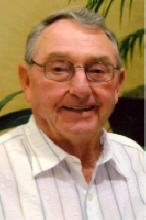 Obituary for Thomas H. Moore
Winnebago - Thomas Henry Moore, 78, of Winnebago, left us to be with the Lord on September 12, 2012. He was born on December 4, 1933, to Edwin and Iva (Ruhlander) Moore, of Manhattan. He met his high school sweetheart, Hazel Yanchick, at Peotone High, and they were married shortly thereafter, on September 10, 1953. A graduate of the University of Illinois with honors, he became employed with Dominick DeMatteo (founder of Dominick's Foods) as a working farm manager. Focused on the dream of owning his own farm, he moved to Winnebago with a fledgling family to rent a farm, which he would purchase 30 years later, with his eldest son continuing the legacy. The family farm blossomed over the years with much careful management and determination. Later, with the first three children almost all grown, two more boys came along to keep life interesting. Watching children and grandchildren grow to fulfill their ambitions and goals, brought added satisfaction to a blessed, full life. In retirement, Thomas enjoyed keeping the farm beautiful, gardening, serving at St. Bride's Episcopal Church in Oregon, watching the grandchildren's sporting events, visiting family and friends, and traveling with his wife of 59 years. He was a friend and confidant to many through numerous years of selling Hughes Hybrids seed corn. So much more than a salesman, he always took time to mentor young farmers who sought his first hand advice. Thomas truly fulfilled Genesis 4:19 as a life-long caretaker of God's creation. We will remember his well worn hands that loved us, provided for us, and guided us the best way he knew how.

Thomas is lovingly survived by his wife, Hazel; daughters, Pamela Stone and Kimberly (Robert) Alexander; sons, Thomas W. (Tami), Steven (Audrey) and Jonathan (Carolyn) Moore; 12 grandchildren; two great-grandchildren; brother, Edwin Moore; and numerous nieces and nephews. Predeceased by his parents; brother, Bill Moore; and sister, Anita Bartol.

Funeral Information

Service at 11:00 a.m. Monday, September 17, 2012, in St. Bride's Episcopal Church, 1000 Route 64, West, Oregon, with the Rev. Robert Cristobal officiating. Burial in Willwood Burial Park, Rockford. Visitation 2:00 p.m. to 5:00 p.m., Sunday, September 16, 2012, in Genandt Funeral Home, 602 N. Elida St., Winnebago.