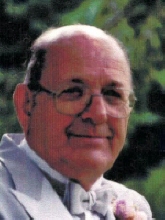 Obituary for Thomas "Tom" Wilcox
Beloved Husband, Father & Grandfather

Winnebago - Thomas "Tom" Wilcox, 78, of Winnebago, died early Tuesday morning, December 18, 2007, in SwedishAmerican Hospital, Rockford, after a lengthy illness. Born November 9, 1929, in Shabbona, the son of William Thomas and Jessie Marquerite (Okey) Wilcox. He graduated from Waterman High School in 1947. Thomas married Phyllis Cunz on March 3, 1950 in Waterman United Methodist Church. He served in the U.S. Army during the Korean Campaign. Thomas originated Winnebago Welding Service in Winnebago and was a former member and past president of The American Welding Society Blackhawk Chapter. He was a member of the First Presbyterian Church and belonged to the American Legion Post 197 in Pecatonica. Thomas was a member of Waterman Masonic Lodge No. 728, Consistory Valley of Freeport, Tebala Shrine Temple and member and a past president of Tebala Air Squadron. He was a member of the group that built the original library in Winnebago. Thomas enjoyed grilling for his family, the coffee groups, bowling, and taking road trips.

Thomas is lovingly survived by his wife, Phyllis Wilcox of Winnebago; children, Brenda (Peter) Lamberton of Winnebago, Tina (Bill) DeGarmo of Scales Mound and David (Judy) Wilcox of Winnebago; eight grandchildren; four great-grandchildren; brothers, Wayne (Charlene) Wilcox and Walter (Eunav) Wilcox; sister, Waneta Reynolds and several nieces and nephews.

Thomas was predeceased by his parents; brother, Francis Wilcox and sister, Lily Demchok.

Funeral Information

Service is at 11:00 a.m., Friday, December 21, 2007, in Genandt Funeral Home, 602 N. Elida St., Winnebago, with Pastor Joseph DiVerdi, of Gentle Shepherd Fellowship in Rockford, officiating. Burial in Winnebago Cemetery. Visitation 5:00 p.m. to 7:00 p.m., Thursday, December 20, 2007, in the funeral home.