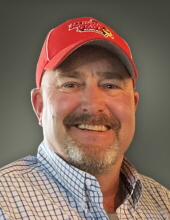 Obituary for Thomas "Tom" William Moore
Thomas William Moore, 56, of Winnebago, left us to be with the Lord on April 19, 2020. Tom was born on November 18, 1963 in Joliet Illinois, the first son and third child of Thomas H. Moore & Hazel (Yanchick) Moore. The family soon moved to a farm in Winnebago on Edwardsville Road when Tom Jr. was 2 years old, where he would grow up with his two older sisters, and in time, his two younger brothers. While attending Winnebago High School, Tom met his high school sweetheart, Beth Reid, who he would eventually marry and begin a family with. After graduating from Winnebago High School in 1982, Tom earned an Associate's Degree at Highland Community College. On September 6, 1986, Tom and Beth married, and soon moved into the house next to the home he grew up in, which they made their own for years to come. In 1988, they welcomed their first child, a daughter, Jessica Kristine, into the world. While they were a young family, they were a happy family, and they soon grew their family with a second daughter, Chelsey Elizabeth, in 1991. Five years later, they had their third child, a son, Austin Thomas in 1996.
Through the years, Tom worked the land with his father, growing an abundance of crops over hundreds of acres, as well as raising beef cattle on three different farmsteads to feed his family. Along the way, Proverbs 3:5-6 became his life verse: "Trust in the Lord with all your heart and lean not on your own understanding; in all your ways submit to Him, and He will make your paths straight." When Tom Sr. passed, Tom Jr. carried on his father's seed client relationships and added many of his own. As a farmer, Tom was gifted with strength, determination, and a business mind. As a father and husband, family came first. For his children, he spared nothing and was committed to family with every fiber of his person. He was a passionate sports player (nicknamed Moses on the basketball floor) and will be remembered as a compassionate coach and vocal participant at sporting events. Friends, woodworking, boating and spending time with his nieces, nephews, and grandchildren were common past times. He was a social man, who could quickly connect with complete strangers. Tom always offered genuine conversation to those who knew him, and you could feel the love he had to offer with every word. More than friendship, he offered advice, companionship, and wisdom to many who will cherish those conversations forever.
John 15:13 "Greater love has no one than this, than he who lays down his life for his friends".
Thomas William is lovingly survived by his Mother, Hazel Moore; sisters, Pamela Stone and Kimberly (Robert) Alexander; brothers, Steven (Audrey) Moore, and Jonathon (Carolyn) Moore; first wife, Beth (Reid) Adamsky, and their three children, Jessica (Kraig) Laurence, Chelsey (Hannah) Sendele, and Austin Moore; second wife, Tami Moore and step-children Stephanie Magnuson, April (Jason) Noe, Samantha Magnuson, and Stetson Magnuson; granddaughter Gracelyn Laurence; step-grandchildren, Trenton Noe, Tyler Noe, Peyton Magnuson, Lucas Magnuson, and Kenleigh Anderson.
Thomas William is predeceased by his father, Thomas Henry.
Due to the ongoing pandemic, a public event will not take place. The family has decided to hold an event virtually via the Tom Moore Celebration of Life on Facebook, which you can access here:
https://www.facebook.com/Tom-Moores-Celebration-of-Life-110073297449626/?ref=page_internal
Tom touched many people's lives, and this page provides the opportunity of celebrating Tom's own life. The family asks that you please share any memories, stories, photos or videos of Tom that make you smile.
We are also planning an independent blue balloon (or any color you can find) release on Sunday, August 16, 2020 at 5:00 p.m. Feel free to share your videos and photos of this on the page as well.
If you still wish to contribute to the Tom Moore memorial fund, donations can be sent to 1004 Vineyard Lane, Aurora, IL 60502. For an online obituary and tributes, go to www.genandtfuneralhome.com.
Read More
Memorial Contribution
In lieu of flowers or other perishables, a memorial has been established.
If you still wish to contribute to the Tom Moore memorial fund, donations can be sent to 1004 Vineyard Lane, Aurora, IL 60502.