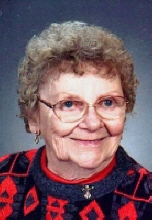 Obituary for Trula M. Pletsch
Devoted Mom, Grandma & Great-grandma

Winnebago - Trula M. Pletsch, 82, of Winnebago, died Monday, April 28, 2008, in her home. Born June 14, 1925, in Wyoming, Iowa, the daughter of Howard and Golda (Nabb) DeMoss. She graduated from Wyoming High School in 1943. Trula married Edgar J. Pletsch on May 1, 1945, in Prophetstown. A grocery clerk, Trula first was employed by Piggly Wiggly in Rockford, then Kasch's Royal Blue/Turner's, in Winnebago for many years, and retired at Winnebago SuperValue. She was an active member of Winnebago United Methodist Church, its UMW, Monday Nighter's Club, and volunteered at Wesley Willows and co-chaired the Golden Oldies Resale Shop. Trula was the number one Cub fan and loved going to Wrigley Field to see them play. She also enjoyed socializing with her card club and the Winnebago Township Seniors group and participating with the Farm Bureau trips to Branson, Mo.

Trula is lovingly survived by her son, Thomas (Sherry) Pletsch of Rockford and of Daytona Beach, Fla.; grandson, Stephen (Jill) Pletsch of Rockford; granddaughters, Lori (Alex) Morales of Miami, Fla. and Mindy Pletsch of Tampa, Fla.; great-grandchildren, Rachael and Brody Pletsch and Andrew and Justin Morales; sister, Audra Chapman of Oxford Junction, Iowa; dear niece, Delores (Earl) Mosher of Winnebago; several other nieces and nephews.

Trula was predeceased by her husband, Edgar Pletsch on May 20, 1996; brother, Warren DeMoss; sisters, Betty Taylor, Gladys Kiesling and Wilma Schellin.

Funeral Information

Service is at 11:00 a.m., Friday, May 2, 2008, in Genandt Funeral Home, 602 N. Elida St., Winnebago, with the Rev. Rick Neblock, pastor of Winnebago United Methodist Church officiating. Burial in Willwood Burial Park, in Rockford. Visitation 5:00 p.m. to 7:00 p.m., Thursday, May 1, 2008, in the funeral home.
Read More