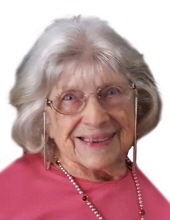 Obituary for Vera "Vee" LuVella Thomas Arendsee Nordquist Rabe
Lake Summerset – Vera "Vee" LuVella Thomas Arendsee Nordquist Rabe, 98, of Lake Summerset, IL died Sunday, December 31, 2017 at her home. "Heaven gained an extra special angel ringing in the New Year". She was born January 20, 1919 in Hillsboro, IL the daughter of Olliver Dayton and Norma Isabell (Page) Thomas. Graduated from Rockford Central High School in 1940. Vera married Wendell C. Arendsee in 1941. She then married Calvin J. Nordquist in 1969, and Leon B. Rabe in 1987. She was a quality control inspector 31 years at Sundstrand Corporation in Rockford retiring in 1984. A member of the First Church of the Brethren in Rockford, Sundstrand Retirees, UAW Local 592, Durand Woman's Club, Otter Creek Historical Society, Rockford Historical Society, Land of Lincoln Theater Organ Society at the Coronado Theater, Rockford Writer's Guild, and was a member of Sweet Adelines founding the Rockford Chapter in 1950. She enjoyed barbershop harmony singing, writing poetry, ceramics, gardening, history, genealogy, and visiting with people to find a common thread that ties us together.

Vera lived a full and good life for almost 99 years. She was a fun-loving, kind-hearted, spunky, smart, and inquisitive woman...the kind of person people would gravitate towards because of her positive energy and beautiful soul. She certainly kept people entertained at gatherings and was always full of interesting stories and wisdom, and enjoyed learning about each person around her. She loved life and family with all of her heart. She was an amazing woman and an inspiration and if she were here right now she'd say, "Awe, shucks, you're just saying that because it's true!" Life will not be the same without her, but we're so very grateful she's blessed our lives as much as she has, and for as long as she has.

Vera is lovingly survived by her daughters, LaVonne Arendsee of Lake Summerset, Linda (Larry) Witek of Rockton, Nancy (Jack) Schaeffer of Lake Summerset; grandchildren, Bryan Hancock, AnnDee (Bronson) Nimmer; great-grandchildren, Tyler and Levi Hancock, Boston, Dylan and Brooklynn Nimmer; several nephews and nieces.

Vera is predeceased by three husbands; sister, Leola Herbig; brothers, Olliver Thomas Jr., Ervin Thomas.

Funeral service 12:00 p.m. with a visitation beginning at 11:00 a.m. on Saturday, January 6, 2018, in the Rockford Community Church of the Brethren at 6909 Auburn St., Rockford with Rev. Samuel Sarpiya officiating. Interment at Willwood Burial Park in Rockford. Visitation also 4:00 p.m. to 6:00 p.m. Friday, January 5, 2018 in Genandt Funeral Home, 602 N. Elida St., Winnebago. In lieu of flowers a memorial will be established. For an online obituary and tributes go to www.genandtfuneralhome.com.
Read More
Previous Events
Visitation the day before the funeral service.
Genandt Funeral Home
602 N. Elida St.
Winnebago, IL 61088
Visitation the day of the funeral service.
Rockford Community Church of the Brethren
6909 Auburn St.
Rockford, IL 61101
Funeral Service
Rockford Community Church of the Brethren
6909 Auburn St.
Rockford, IL 61101
Cemetery Details
Location
Willwood Burial Park
7000 W. State St.
Rockford, IL 61102
Memorial Contribution