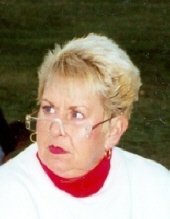 Obituary for Vicki Lee Butt
Herb

Rockford - Vicki Lee Butt, 70, of Rockford, died Thursday, June 11, 2015, in Rockford Memorial Hospital, surrounded by her loving family. Born October 18, 1944, in Rockford, the daughter of Benjamin and Lena (Keen) Kurtz. Graduated from Auburn High School in 1962. Vicki married Max D. Butt on September 15, 1962, in Rockford. She was a member of the Teamsters Retiree's Club, in Rockford and the Moose Club, in Florida. Vicki enjoyed sewing, finding bargains at garage sales, shopping and wintering in their Florida home. She dearly loved her family and all the family functions.

Vicki is lovingly survived by her husband, Max Butt; son, Michael Butt; and brother, Bruce Kurtz, all of Rockford; lifelong best friend, Nancy Kosar of Belvidere; and several nieces and nephews. She was predeceased by her parents and brother, Russell Kurtz.

Funeral Information

Service at 11:00 a.m. Monday, June 15, 2015, in Genandt Funeral Home, 602 N. Elida St., Winnebago, with Pastor Gary Cortese of Global Harvest Church, Byron, officiating. Burial in Willwood Burial Park, Rockford. Visitation 2:00 p.m. to 4:00 p.m., Sunday, June 14, 2015, in the funeral home.
Read More