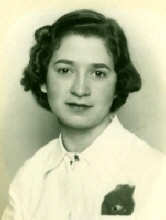 Obituary for Violet Konstant
Winnebago - Violet "Vi" Konstant, 93, of Winnebago, died Friday, January 25, 2013, in her home, following a lengthy illness. Born August 4, 1919, in Freeport, the daughter of Nicholas and Lucy (Taosanis) Kortes. She worked as a dental assistant for seven years for Dr. L. G. Stone and at the Freeport Public Library for five years. Violet married Lester J. Konstant on August 30, 1941, in German Valley Christian Reformed Church, and moved to the Konstant family farm on Pecatonica Road, where they lived for 43 years. Upon retirement, they moved to their current home at Winnebago in 1984. Violet was a member of Seward Congregational Church for more than 50 years. She enjoyed playing cards with her many friends and neighbors, both in Pecatonica and Winnebago. Violet also enjoyed collecting antique dolls and dishes, gardening and cooking for her family. She always enjoyed caring for her grandchildren and children.

Violet is lovingly survived by her son, Larry (Debbie) Konstant of Pecatonica; daughters, Sandy (Gary) Reiter of Rockford and Sally (Kelly) Mahan, of Winnebago; grandchildren, Kevin Konstant of Pecatonica, Kristen (Dan) White of Oregon, Steve (Sam) Reiter of Davis, Brent (Tracey) Reiter of Pecatonica, Terren (Gerard) Sullivan of Chicago and Laura (boyfriend, John) Quintanilla of Winnebago; great-grandchildren, Tyler Disch and Grace Nicole White, both of Oregon, Stacy Pippel of Rockford, Codi (Sarah) Reiter of Roscoe, Andy and Harrison Reiter of Pecatonica, and Kristina, Audra, Eamon, and Jay Sullivan of Chicago; great-great-granddaughter, Khloe Pippel of Rockford; and several nieces and nephews. Predeceased by her parents; husband, Lester, on June 30, 2003; brother, Chris Kortes; and sisters, Kathleen Sklavanities, Irene Noorman and Ann Wiker.

Funeral Information

Visitation from 6:00 p.m. to 8:00 p.m. Tuesday, January 29, 2013, in Genandt Funeral Home, 602 N. Elida St., Winnebago. Private graveside service at Twelve Mile Grove Cemetery, Pecatonica.
Read More