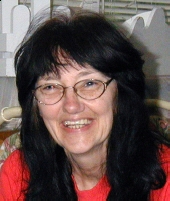 Obituary for Virginia "Cookie" Tallacksen
Cherished Wife, Mom, Grandma, Daughter & Sister

Rockford - Virginia L. "Cookie" Tallacksen, 65, of Rockford, passed away Wednesday, October 6, 2010, in Rockford Memorial Hospital, with her family by her side, after a short illness. Born December 6, 1944, in Lebanon, Penna., the daughter of George and Joyce (Weand) Cook. Graduated from Harlem High School in 1963. Cookie married Walt Tallacksen on August 25, 1972, in Church By The Side Of The Road, Rockton. She was employed at Amerock for ten years. An entrepreneur, Cookie loved sewing, crafting, and baking wedding cakes and specialty cakes. Always active, she also enjoyed gardening and working out in the yard, flea marketing and garage saling.

Cookie is lovingly survived by her husband, Walt Tallacksen, children, Debbie Tallacksen, Kenny Roberts, all of Rockford, Crystal (Brent) Gilligan of Roscoe, and Kevin (Brittany Kelsey) Tallacksen of Rockford; grandchildren, Darlene (Zach) DeWitz, Jeremy Roberts, Haleigh and Hayden Gilligan, and Bria Tallacksen; mother, Joyce Londrie of Roscoe; sister, Donna Cook of Roscoe; brothers, George (Sharon) Cook of Machesney Park and Clancy (Casey) Cook of Clarksville, Tenn. and Joey Cook of Rockford; and numerous nieces and nephews. She was predeceased by her father, George Cook.

Funeral Information

Service is at 12:00 p.m., Monday, October 11, 2010, in Genandt Funeral Home, 602 N. Elida St., Winnebago, with visitation from 10:00 a.m. until service time: Pastor Herman Brown of Lincoln Wood Baptist Church, Rockford, will officiate. Burial in Willwood Burial Park, Rockford.