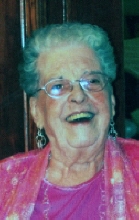 Obituary for Virginia Mae Gallup
Egan Virginia Mae Gallup, 93, of Egan, passed away on Sunday, August 27, 2017 at Swedish American Hospital in Rockford after a short illness. Born April 15, 1924 in Rockford the daughter of Clayton Calvin and Dora Kathryn (Bakener) Hevrin the first daughter of eight children. Attended Byron High School. Virginia married Keith Knapp Gallup on November 9, 1943 in Missouri. Soon after, while Keith was serving in the US Army at General MacArthurs Headquarters in the Philippines and Japan, Virginia lived with her sister-in-law Bernice Hagemann in Mt. Morris while Bernices husband Earl also served in the US Army. Upon Keiths return from the service, he and Virginia settled on their farm in Egan where they raised their family. Virginia graduated from beautician school in Rockford and opened a beauty shop in their country home.

Virginias family would like to express a special thank you to daughter-in-law Kara Wittenbeck Gallup, niece Dana Dean and sister-in-law Bernice Hagemann for their loving care and comfort given to Virginia. Also a thank you to the Pinecrest Community staff and residence for their care and making Virginia feel at home, and to the physicians and staff at Swedish American Hospitals CCU and the 7th floor for their love and support.

Virginia is lovingly survived by her children, Edward (Midge Miles) Gallup of Hales Corners, WI, Gary (Sharen) of The Villages, FL, Robert (Kara) Gallup of Egan, Roger (Lanh Vo) of Glenwood Springs, CO; six grandchildren; five great-grandchildren; sisters, Betty (Donald) Pence of Rockford, Margie Hawkins of Rockford, Carol (Neil) Holcomb of Wichita Falls, TX; brother-in-law, Donald (Alene) Gallup of Mt. Morris; sister-in-law, Bernice Hageman of Phoenix, AZ; several nephews and nieces.

Virginia is predeceased by her husband, Keith on November 30, 2006; daughter, Janette Gallup on April 18, 1958; brothers, Glenn Hevrin, Kenneth Hevrin; sisters, Mildred Skrinski, Mary Miller.

Funeral Information

Funeral service noon Friday, September 1, 2017, with a visitation beginning at 10:00 a.m. in Genandt Funeral Home, 602 N. Elida St., Winnebago with Rev. Rodney Caldwell, Chaplain of Pinecrest Community in Mt. Morris officiating. Private interment in Egan Cemetery.
Read More