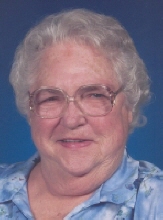 Obituary for Virginia Ruth Schroder
Winnebago - Virginia Ruth Schroder, 81, of Winnebago, died Saturday morning, December 18, 2010, in Rockford Memorial Hospital. Born on August 6, 1929, in Byron, the daughter of Lewis Dale and Florence Agnes (Wickwire) Coffman. Graduated from Byron High School in 1947, and attended Rockford College. Virginia married William H. "Toby" Schroder on February 19, 1949, in Byron. She was a postal clerk for the U.S. Postal Service, in Rockford. Virginia was an active member of Santa Teresa Presbyterian Church while residing in San Jose, Calif., and of Middle Creek Presbyterian Church and the American Postal Workers Union. She loved to play cards and travel in the United States, Canada, Mexico and Bermuda; especially visiting grandchildren in eight states, Illinois, California, Oklahoma, Nebraska, Ohio, Kentucky, Missouri and Wisconsin.

Virginia is lovingly survived by her children, Yvonne (Timothy) Knight-Wandel of Freeport and Burlington, Wis., Lorraine (Bob) Conley of Pauls Valley, Okla., Diane (Don) Hughes of Leaf River, Rodney (Peggy) Schroder of San Diego, Calif., Ronald "Buster" (Renee) Schroder of Winnebago, Rhonda (Kevin) Beavers of Commercial Point, Ohio, and Russell (Beverly) Schroder of San Jose, Calif.; thirteen grandchildren; twelve great-grandchildren; and dear family friends, Phyllis Werntz, Jan Littlefield, and Merle and Helen Mennenga and their children, Randy and Jennifer. She was predeceased by her parents; husband, Toby, on July 23, 1987; son-in-law, Donald Knight;and sister, Yvonne Coffman.

Funeral Information

Service is at 11:00 a.m., Wednesday, December 22, 2010, in Middle Creek Presbyterian Church, 12473 Montague Road, Winnebago, with the Rev. Anita Stuart-Steva officiating. Burial in Middle Creek Cemetery, Winnebago. Visitation 5:00 p.m. to 8:00 p.m., Tuesday, December 21, 2010, in Genandt Funeral Home, 602 N. Elida St., Winnebago.
Read More