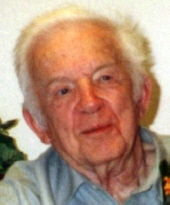 Obituary for Warren H. Bruss
Winnebago - Warren H. Bruss, 82, of Winnebago, died Saturday morning, December 17, 2005, in his home. Born February 14, 1923, in rural Winnebago, the son of Andrew and Ruth (Olson) Bruss. Graduated from Winnebago High School in 1941. Warren married Anna Lou "Annie" Royster on December 10, 1945, in the Winnebago United Methodist Church. On their wedding night, Warren and Annie moved her things from her parents' home across the yard in a snowstorm and through snowdrifts to their new home where they have resided the past 60 years. He served in the U. S. Army from June 10, 1946 until June 7, 1947 as a supply clerk. Warren was employed nearly 30 years at Woodward Governor, first as a machinist, and worked his way up to a methods engineer, retiring in 1985. Being mechanically inclined, he enjoyed tinkering on his cars and making repairs at home, besides helping anyone else at need, and enjoyed being a prolific reader. Warren worked hard to ensure his family could vacation and loved all the frequent family vacations up north; most recently having visited three times this summer.

Warren is lovingly survived by his children, Roger (Nancy Gin) Bruss of Sussex, Wis., Babe Miller of Freeport, Steven (Connie) Bruss of Morrisonville, Wis., Cindy Lightfoot of Seward, Duke Bruss of Winnebago and Denise (Henry) Martin of Holmen, Wis., eighteen grandchildren, nineteen great-grandchildren, stepsister, Maxine (Ray) Schauer of Pecatonica and several nieces and nephews.

Warren was predeceased by his parents, wife, Annie Bruss, on February 2, 2001, infant grandson, sister, Ruth Louise Bruss, brother, Andrew Eugene Bruss and stepmother, Gladys Bruss.

Funeral Information

Private family graveside service is on Tuesday, December 20, 2005 at Winnebago Cemetery, in Winnebago.
Read More