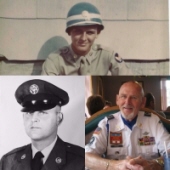 Obituary for Warren Nels Ramsey
Winnebago Warren Nels Ramsey, 86, of Winnebago passed away Saturday, January 14, 2017 in Serenity Hospice and Home near Oregon surrounded by his loving family. Born April 6, 1930 in Curlew, Iowa the son of George C. Hanson and Jewell L. McCarville (Ramsey). Graduated from West High School in Rockford and attended Weber State University in Ogden, Utah. Warren enlisted in the Army Air Corps on December 14, 1947 and retired from the United States Air Force on July 1, 1971 as Chief Master Sergeant Active Duty. Warren married Jane Quayle Brown on January 3, 1953 at the family farm on Winnebago Road near Winnebago. He also worked over twenty years for the Greater Rockford Airport retiring in 1995. Warren was active in many veteran organizations including the American Legion in Rockton, VFW in Belvidere, VietNow, Winnebago County Veterans Association as well as being the Commander of the Korean War Veterans Association for the State of Illinois. In addition Warren was an active member of the Masons in Freeport, Tebala Shriners in Rockford, Rod and Gun Club in Frankfurt, Germany. He co-founded of the Blue Knights Law Enforcement Motorcycle Club and was coordinator of the Riviera Owners Association of Illinois. Warrens sense of humor always shined through. He loved cooking, traveling with his family and was never too busy to help others.

Courageous and brave, Warren loved our country, was a true patriot and a born leader. He had a sharp mind, incredible memory, quick wit and told jokes to the end. He greatly loved his family and will be dearly missed.

Warren is lovingly survived by his wife, Jane Ramsey of Winnebago; daughters, Nancy Kusnir of Cedarville, Melissa (Karl) Kroening of Rockford, Peggy Ramsey of Winnebago; grandchildren, Jarrod (Amanda) Dunnavan of Oregon, Megan (Brad) Dierks of Rockford, Brittney Kroening of Rockford, Alec Ramsey of Laramie, WY; great-grandchildren, Hayden Dunnavan, Jackson Dunnavan, Callie Dierks, Violet Dierks; sister, Susan (Bill) Kirby of Port St. Lucie, FL; brother-in-law, David Smith of Rockford; several nephews and nieces.

Warren is predeceased by his parents, George Hanson, Jewell and William Ramsey; sister, Carol Smith.

Funeral Information

Funeral service 11:00 a.m. Saturday, January 21, 2017 in Genandt Funeral Home, 602 N. Elida St., Winnebago with Rev. Larry A. Moody pastor of Burritt Community Church near Winnebago officiating. Interment in South Burritt Cemetery near Winnebago with military honors. Visitation 5:00 p.m. to 7:00 p.m. Friday, January 20, 2017, in the funeral home.
Read More