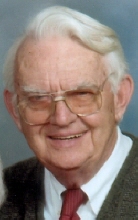 Obituary for William "Bill" G. McDonald
Winnebago William Bill G. McDonald, 89, of Winnebago died Thursday, February 9, 2017 in the Serenity Hospice and Home after a sudden illness. Born October 17, 1927 in Rockford the son of Charles E. and Vivian M. (Healey) McDonald. He was raised on Fountaindale Farm on Montague Road in Seward Township. Graduated from Byron High School in 1945 and enjoyed attending many class reunions. Bill married Mary E. Enge on February 12, 1949 in St. Marys Catholic Church in Pecatonica. They were married for over 64 years. Bill farmed Fountaindale for thirty years and then worked as a Rockford Township tax assessor and also served as an elected Seward Township tax assessor for many years. He was proud of his Irish Catholic heritage, belonging to FFA in high school, being a 4-H leader for Seward Determination and being a lifetime member of the Seward Historical Society.

Bills family would like to thank the staff and residents at MorningStar Village in Rockford for their care and friendship while Bill made his home there the past three years.

Bill is lovingly survived by his son, Charles (Sue) McDonald of Winnebago; daughter, Anne (Jim) Rezich of Winnebago; grandchildren, Chad (Wendy) Krzyzek, Nick (Tara) Rezich, Daniel (Andrea) Rezich, Jill Bons, and Tom (Michele) McDonald; nine great-grandchildren.

Bill is predeceased by his wife, Mary; daughter, Julie E. (Krzyzek) Chamberlin; grandson, Tyler N. Krzyzek.

Funeral Information

Funeral Mass 11:00 a.m. Tuesday, February 14, 2017 in St. Marys Catholic Church, 126 W. 5th St., Pecatonica with Rev. Robert Sweeney officiating. Interment in St. Thomas Catholic Cemetery near Seward. Visitation 4:00 p.m. to 7:00 p.m. Monday, February 13, 2017 in the Genandt Funeral Home, 602 N. Elida St., Winnebago.
Read More