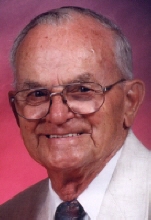 Obituary for William "Bill" L. McCornock
Beloved Husband, Dad, Grandpa & Great-papa

Winnebago - William "Bill" L. McCornock, 91, of Winnebago, died Tuesday morning, May 1, 2007, in Alden Alma Nelson Manor, Rockford. Born August 20, 1915, in Durand Township, the son of Robert and Zora (Haughton) McCornock. He served in the Army from April 22, 1941 to September 20, 1945, and was a POW during World War II. Bill married Marguerite "Peg" Nailor on June 28, 1947, in Pecatonica United Methodist Church. He was employed at National Lock, retiring in 1977. Upon retirement, Bill was a self-employed electrician, doing jobs even into his 80s. He was a member of St. John Lutheran Church, Winnebago Masonic Lodge 745 AF AM over 50 years, Scottish Rite Freeport Consistory, and Donald L. Tarbert Post 8416 VFW in Pecatonica. Bill cherished his grandchildren and great-grandchildren and the family get-togethers.

Bill is lovingly survived by his wife, Peg McCornock of Winnebago; children, Linda Conrad and Terry (Sue) McCornock, both of Winnebago; grandchildren, Kevin Conrad of Pecatonica, Nichole (Joe) Schiro of Winnebago, Angelia (Tony) Michard of Longmont Colo., Robin Johnson of Winnebago, Todd (Malinda) McCornock of Rockford and Stacy (Tim) Roggensack of Rockford; great-grandchildren, great-grandpa's special angel, Dalton and Dakotah Johnson, Jordan and Teagan Conrad, Nicholas, Salvatore "Sammy" and Joey Schiro, Cristian Michard and Marissa Roggensack and sister, Gladys Galster in Florida.

Bill was predeceased by his parents; brothers, Donn, Gene and Kaye McCornock and son-in-law, Marvin Conrad on February 22, 2005.

Funeral Information

Service is at 1:30 p.m. Saturday, May 5, 2007, in St. John Lutheran Church, 1301 N. Jackson St., Pecatonica, with the Rev. Terry L. Theiss officiating. Burial in Willwood Burial Park, in Rockford. Visitation 5:00 p.m. to 7:00 p.m. Friday, May 4, 2007, with Masonic rites at 7:00 p.m., in Genandt Funeral Home, 602 N. Elida St., Winnebago.