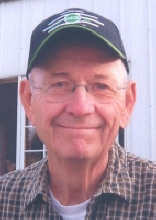 Obituary for William H. Bauch
Pecatonica - William H. Bauch, 77, of Pecatonica, passed away Wednesday, January 12, 2011. He was born on November 6, 1933, in Freeport, the son of Clement and Priscilla (Davis) Bauch. William grew up working on the family vegetable farm and playing basketball at Freeport High School. Upon graduation from high school in 1951, he continued to farm and then enlisted in the United States Army. After his service, William attended Northern Illinois University, Dekalb, and received his degree in business. While attending Northern, William met his lifelong partner, Margaret (Samorian) Bauch. They were married on August 27, 1960 in St. Edward's Catholic Church, Rockford. In 1962, William founded Bee Line Ready Mix with his brother, Davis, in Pecatonica and in 1986, founded Bauch Quarry Products. In 1990, William, Margaret, and their son, Stephen, established Roscoe Ready Mix, Roscoe, and in 1996, Roscoe Rock and Sand. During all of this time, William and Margaret raised their three children, attended sporting events, ran their businesses, planted and maintained rock gardens at their home and William managed to make friends with everyone he met. As the grandchildren arrived, William strived to influence their lives in a positive direction and they will miss him dearly. William was known as the "Man with the orange tractor in town," participated in the local coffee shop morning roundtables with friends, had his own personal number at the local auction sales, and his own chair at the local hardware store. For nearly 50 years, in Pecatonica, he contributed to the school district, churches, the fairgrounds, and Boy Scouts. Everyone knew Bill. William was a member of St. Mary's Catholic Church, Knights of Columbus, Pecatonica American Legion, Pecatonica Historical Society, and Pi Kappa Phi Fraternity. He was a former member of Pecatonica Rotary, and Pecatonica Township board.

Bill is lovingly survived by his wife, Margaret; sons, Stephen (Julie) Bauch and stepdaughter, Ashley Lanoway of South Beloit, Jonathan (Susan) Bauch and daughters, Gabrielle and Alexandra of Roscoe; daughter, Christine (Peter) Straka and children, Emily, Samantha, and Evan of Naperville; brothers, Robert (Rosemary) Bauch of Freeport and Davis (Carol) Bauch of Pecatonica; sister-in-law, Mary Bauch of Mt. Carroll; brothers and sisters-in-law, Harold and Sylvia Samorian of Northbrook and David and Nancy Carmody of Oswego; brother-in-law, James Samorian of Rockford; and numerous nieces and nephews. He was predeceased by his parents; sister, Elizabeth Lavicka; brothers, Stanley and Donald Bauch; and in-laws, John and Catherine Samorian.

Funeral Information

Mass of Christian Burial is at 10:00 a.m., Monday, January 17, 2011, in St. Mary's Catholic Church, 126 W. 5th St., Pecatonica, with the Rev. Monsignor Robert Sweeney officiating. Entombment in Calvary Catholic Cemetery, Winnebago. Visitation 1:00 p.m. to 5:00 p.m., Sunday, January 16, 2011, in Genandt Funeral Home, 602 N. Elida St., Winnebago.
Read More