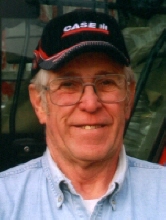 Obituary for William J. "Bill" Cross Jr.
Beloved husband, dad, grandpa, brother and friend

Winnebago - William J. "Bill" Cross, Jr., 66, of Winnebago, died Saturday night, July 14, 2007, in Rockford Memorial Hospital, after a sudden illness. Born October 21, 1940, in Rockford, the son of William and Evelyn (VanCleve) Cross. He graduated from Winnebago High School in 1958. Bill married Mary McCulloch on June 17, 1961, in Gordon Chapel, Second Congregational Church, Rockford. He was a hog and grain farmer, and a owner-operator contracted to haul bulk milk for Mid-West Dairymen's Company for 49 years. In his youth, Bill was in 4-H and FFA; he then was a 4-H leader for the Winnebago Wide-Awakes for 30 years. Bill was a member of First Church of the Brethren in Rockford; Winnebago County Farm Bureau; served on the nominating committee of First Farm Credit Service and the advisory committee of A.S.C. In addition he was an Asgrow seed dealer, and served 25 years as president of the Win-Bur-Sew Fire Board. Bill enjoyed making model farm buildings for his children and grandchildren, and with his love for antique tractors, collected toy farm equipment. He dearly loved attending his grandchildren's activities along with being an avid Cub fan.

Bill is lovingly survived by his wife, Mary Cross; children, Dennis (Karin) Cross and Craig (Darcy) Cross, all of Winnebago and Corinne (Jim) Rakuc of Caledonia; grandchildren, Chas and Amy Cross, Jessica and Cally Stocker and Robert Cross, all of Winnebago, and James and Ashley Rakuc of Caledonia; sister, Nancy (Paul) Neakrase of Washington; nephew, Lynn (Jennifer) Neakrase of Tempe, Ariz. and great-nephew, Stephen Neakrase.

Bill was predeceased by his parents.

Funeral Information

Service is at 1:00 p.m., Thursday, July 19, 2007, in Genandt Funeral Home, 602 N. Elida St., Winnebago, with the Rev. Dr. William Richard Kerr, Sr., pastor of Riverside Community Church in Machesney Park, officiating. Burial in Winnebago Cemetery. Visitation 5:00 p.m. to 8:00 p.m., Wednesday, July 18, 2007, in the funeral home.
Read More