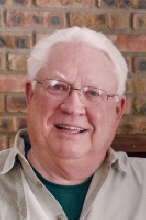 Obituary for William J. Matthews
Norfork, AR - William J. Matthews, 70, of Norfork, AR, formerly of Durand, died Tuesday, April 19, 2016, in Baxter Regional Medical Center, following a sudden illness. Born June 25, 1945, in Rockford, the son of Joseph and Thelma (LaPointe) Matthews. He served in the U.S. Air Force from February 13, 1963 to February 10, 1967. William married Paulette I. Turner on April 23, 1966, in St. Patrick Church, Rockford. He was a machinist for Ingersoll Milling Machine Co., Rockford for 37 years. Upon retiring, William and Paulette moved to Norfork. He enjoyed woodworking, fishing, cooking, gardening, traveling, and forever connecting to social media.

William is lovingly survived by his wife, Paulette; children, Tracy (David) Sullins and Mark (Jennifer) Matthews, both of Roscoe; grandchildren, Caleb, Rian, Reagan, Sam, Tucker and Aeden; sister, Patricia Rodriquez of Dubuque, IA; sister and brother-in-law, Lois and Jerry Davis of Egan; sister-in-law, Marilyn Turner of Roscoe; nieces, Jamie Davis and Nicole Reyes; nephews, Jeremy Davis, and Ron and Chris Matthews; and faithful companion, Matt. He was predeceased by his parents; brother, Richard Matthews; parents-in-law, Paul and Theo Turner; and brother-in-law Albert Turner.

Funeral Information

Graveside service at 11 a.m. Tuesday, April 26, 2016, in Twelve Mile Grove Cemetery, Pecatonica. Visitation 4 p.m. to 7 p.m., Monday, April 25, 2016, in Genandt Funeral Home, 602 N. Elida St., Winnebago.
Read More