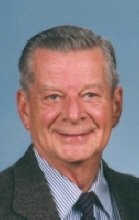 Obituary for Wayne Earl Jones
Winnebago - Wayne Earl Jones, 87, of Winnebago, died Sunday, February 22, 2015, in his home. Born June 23, 1927, in Rockford, the eldest son of Earl D. and Gertrude L. (Runyard) Jones. Wayne enlisted in the U.S. Navy at 16 after the death of his favorite uncle, Fred, during the war. He proudly served our country during WWII, aboard the USS Bushnell and its submarine pack. Wayne married Doris Holmes on May 23, 1953, in Grace United Methodist Church, Rockford. They remained happily married for 56 years until her death on March 6, 2010. Wayne joined the Rockford Fire Department in 1950 and retired as lieutenant after 34 years. He spent many years self-employed in the TV and stereo repair business and worked for Jackson Piano, repairing organs. After retiring, Wayne worked several years for Apache Chemical, owned by his brother, David. He loved woodworking, camping, fishing and traveling and dearly loved spending time with family and friends.

Wayne is lovingly survived by his sons, Scott F. Jones and Brian D. Jones, DDS; brother, Warren Jones; and numerous cousins, nieces and nephews. He was also predeceased by his parents and youngest brother, David E. Jones. Wayne's family gives a very special thanks to his caregiver, Galina.

Funeral Information

Service is at 11:00 a.m., Saturday, February 28, 2015, in Genandt Funeral Home, 602 N. Elida St., Winnebago, with visitation from 9:00 a.m. until service time; Pastor Tim Spickler, of New Life Bible Church, Winnebago, will officiate. Burial in Winnebago Cemetery.
Read More