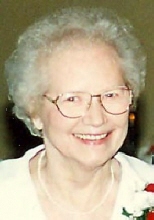 Obituary for Betty L. Mason
Winnebago - Betty L. Mason, 89, of Winnebago, died Thursday, January 5, 2012, in River Bluff Nursing Home, Rockford, after a short illness. She lived most of her adult life in Winnebago. Born August 19, 1922, in Maryland Station, the daughter of Arthur and Pearl (Spielman) Link. She graduated from West High School, in Rockford, in 1946. Betty married Harrison G. Mason on October 18, 1946 in Kansas City, Kansas. He passed away July 30, 1969. Betty was a veteran of World War II, serving in the US Coast Guard Women's Reserve. She worked at Barber Colman Co. in the Textile Div. for 20 years, retiring in August, 1984. She was Past Matron of the Winnebago Chapter No. 444 Order of the Eastern Star, before merging with Cherry Valley Chapter No. 478. Betty was a lifetime member of the Disabled American Veterans, American Legion Philip Cafagna Post 209 of Byron, and a member of the United Methodist Church, Winnebago.

Betty is lovingly survived by her son, Marlin (Carol) Mason of Lena; daughter, Phyllis (Terry) Burns of Winnebago; daughter-in-law, Janice Mason of Winnebago; 11 stepgrandchildren, Gilbert and Kelly Mason of Oklahoma, Barbara Silva of Texas, James (Pam) Howard, Richard (Laura) Mason and Amy (Ken) Garnhart, all of Winnebago, Tami (Deaion) Berogan of Rockford, Sandi (Todd) Murray of Byron, Michael Holland and Scott (Chari) Holland, both of Minnesota, and Les (Patti) Hanson of Orangeville; 20 great-grandchildren; numerous great-great-grandchildren; sisters, Lois Lukow of Arizona and Phyllis DeWitt of Illinois; numerous nieces and nephews; and dear friend, Ginny Abbott.

She was also predeceased by her parents; stepsons, William "Don" Mason and Charles "Chuck" Mason; daughter-in-law, Margy Mason; stepgranddaughter, Rose Hanson; brothers, Max and Arthur Link; and sister, Darlene Stern.
Betty's family wishes to thank the caregivers of Eagle and Dove wings of River Bluff Nursing Home for their care and support.

Funeral Information

Service is at 11:00 a.m. Monday, January 9, 2012, in Genandt Funeral Home 602 N. Elida St., Winnebago with visitation from 10:00 a.m. until service time; the Rev. Jerry Demond, chaplain of River Bluff Nursing Home, will officiate. Burial in Winnebago Cemetery.
Read More