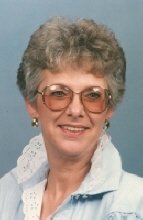 Obituary for June J. Kearns
German Valley - June J. Kearns, 75, of German Valley, died Monday, May 9, 2016, in FHN Freeport Memorial Hospital. Born October 28, 1940, in Freeport, the daughter of James and Maud (Stoddard) Klinger. Graduated from Forreston High School in 1958. June married Donald E. Kearns on September 16, 1967, in German Valley United Methodist Church. She was a bookbinder at Kable Printing Co., Mount Morris, for 25 years and then at Thrift-Remsen Printers for 20 years. Upon retiring, June worked at The Depot, Forreston, for eight years. She was a member of German Valley United Methodist Church and a mentor for the Forrestville Valley School District.

June is lovingly survived by her son, Curt Stukenberg; daughter-in-law, Kelli Stukenberg; grandson, Logan Stukenberg, all of German Valley; Don's children; Belinda Fullmer, Tami (Bob) Althoff and Donald (Trina) Kearns; and his grandchildren. She was predeceased by her parents; husband, Don on January 24, 2003; son, Keith Stukenberg on February 7, 2010; and twin grandsons, Cory and Casey Stukenberg.

Funeral Information

Service at 2 p.m. Friday, May 13, 2016, in United Methodist Church, 7 Main St., German Valley, with Pastor Matthew Smith officiating. Burial in Twelve Mile Grove Cemetery, Pecatonica. Visitation 4 p.m. to 7 p.m., Thursday, May 12, 2016, in the church.
Read More