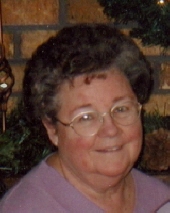 Obituary for Shirley L. Griswold
Winnebago - Shirley L. Griswold, 74, of Winnebago, died Wednesday, May 7, 2014, in Serenity Hospice and Home, Oregon, after a short but courageous and graceful battle with cancer. Born March 13, 1940, in Adeline, the daughter of Carl F. and Florence E. (Myers) Hayenga. Graduated from Byron High School in 1958 and attended Rockford Business School. Shirley married William V. C. Griswold on March 19, 1961, in Rockford. A faithful Navy wife of 16 years, Shirley made sure each base was "home" to their growing family from the west coast, including Hawaii, to the east coast, and then settling in Winnebago in 1976. She was part of First State Bank's loan department for 14 years, then a teller at Winnebago's First National Bank for two years, and retiring after 14 years, in 2005, as the receptionist for William Johnson, D.C., in Winnebago. Shirley has created beautiful, award-winning heirloom latch-hook rugs and with her love of sewing and crafting, has created numerous elves before "Elf on a Shelf" became popular, along with plush mouse ornaments, Mr. and Mrs. Santa Claus, and bears in a canoe, just to name a few projects. She also enjoyed collecting Uncle Sam's, pigs and chickens.

Shirley cherished being a caring wife of 53 years, mom and grandma, and will be greatly missed by her loving surviving family, including her husband, Bill; daughter, Dawn (Michael) Collins of Park Ridge; son, Dan (Staci) Griswold of Mocksville, N.C.; granddaughters, Samantha Griswold of Winnebago and D'elaine Bejgier of Park Ridge; sister, Sharon (Tom) Howard of Florida; brother, Phillip (Donna) Hayenga of Byron; and several nieces and nephews. She was predeceased by her parents.

Funeral Information

Service is at 12:00 p.m., Saturday, May 10, 2014, in Genandt Funeral Home, 602 N. Elida St., Winnebago, with visitation from 10:00 a.m. until service time; Pastor Tim Spickler, of New Life Bible Church, Winnebago, will officiate. Burial in Winnebago Cemetery.
Read More