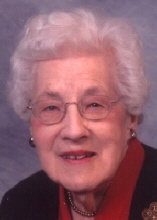 Obituary for Harriet J. Greenlee Crull
Loving Aunt

Winnebago - Harriet J. Greenlee Crull, 95, of Winnebago, went to be with the Lord Monday evening, January 8, 2007, in her home. Born December 28, 1911, in Winnebago, the daughter of Robert and Janet (Ralston) Greenlee. She graduated from Winnebago High School in 1929 and from Wesley Memorial Hospital, Chicago (affiliated with Northwestern University) in 1933. Harriet married Lyle U. Crull in December 1939. She worked in several hospitals and then V.N.A. for a total of seventeen years. Harriet was a member of Wesley Alumni, Beta Sigma Phi sorority, First Presbyterian Church of Rockford, First Presbyterian Church of Winnebago, the churches Circles, Bridge Club, Pot Luck groups and a former member of Rockford Women's Club. An avid reader, Harriet also enjoyed gardening, knitting and watching the kids playing sports in her backyard. She dearly loved baking with her great-great-nieces and nephews.

Hariett is lovingly survived by her son, Richard L. Crull, of Wis.; daughter, Margaret (Lloyd) Ohlke, of Ark.; foster daughter, Jean Collins of Calif.; grandchildren, Mark (Lori) Pierce, of Texas, Kenneth, Richard and Vickie Crull; great-grandchildren, Holden, Danielle and Jet Pierce; nephews, James (Rita) Mitchell, with whom she resided and received much T.L.C., Robert Greenlee of Rockford and David Greenlee, of Ariz.; nieces, Janet (Tim) Schafer of Milwaukee, Wis. and Marilyn (Ron) Jones of Ariz.; niece-in-law, Judy Mitchell of Winnebago; special angel and great-niece, Teresa and numerous other nieces and nephews.

Hariett was predeceased by her parents; husband, Lyle Crull; sisters, Ester Johnson, Gladys Perkins, Bernice Mitchell and Marjory, in infancy; brother, Clark Greenlee; and nephew, Douglas Mitchell.

Her family wishes to thank Hospice of America for their care and compassion.

Funeral Information

Service is at 11:00 a.m., Saturday, January 13, 2007, in First Presbyterian Church, 208 W. Winnebago St., Winnebago, with visitation from 9:00 a.m., until service time; the Rev. Steve P. Shullanberger , of First Presbyterian Church of Winnebago and the Rev. Bob Hillenbrand, of First Presbyterian Church of Rockford, will co-officiate. Private burial in Winnebago Cemetery, in Winnebago.
Read More